A Question About Fifty Shades of Grey
Posted by

Adult Sons

,

Boy's Purity

,

Christian Living

,

Civilization

,

Family Life

,

Filmmaking

,

How to Be a Father

,

How to Be a Mother

,

Preparing Sons for Marriage

,

Singles

,

Teens

,

Twenty-somethings

in

This morning a friend asked, "Do you think I should watch Fifty Shades of Grey with my teen and talk about it?" 

We're not as strict on media as some are. We think there's some value in watching things you don't agree with and analyzing and discussing them with your teens. Sometimes, though, there's more harm than good in a media choice.

We speak about purity and internet porn and we just finished the manuscript for a book for single guys about these things. In our research, we found some pretty concerning things.

There's a disturbing change going on in our culture. Internet porn has become a huge influencer of young men. Most (really almost all) boys are exposed to porn before they're 18. That's bad enough. Internet porn, though, provokes a dopamine cycle (affiliate) that tempts users to seek out more and worse things in order to get the same thrill. Because of that (and the sinfulness of man, of course), perversion is everywhere out there. 88% of porn contains physical aggression. It's even reaching young people – 23% of girls and 39% of boys have viewed sexual bondage. (Covenant Eyes Porn Stats, affiliate link)

One sad effect of all this is that there is a big disconnect between what young men of marriageable age  think is a normal sexual relationship and what young women of that age do. The aggression, humiliation, and perversion of porn is affecting the expectations couples bring to marriage.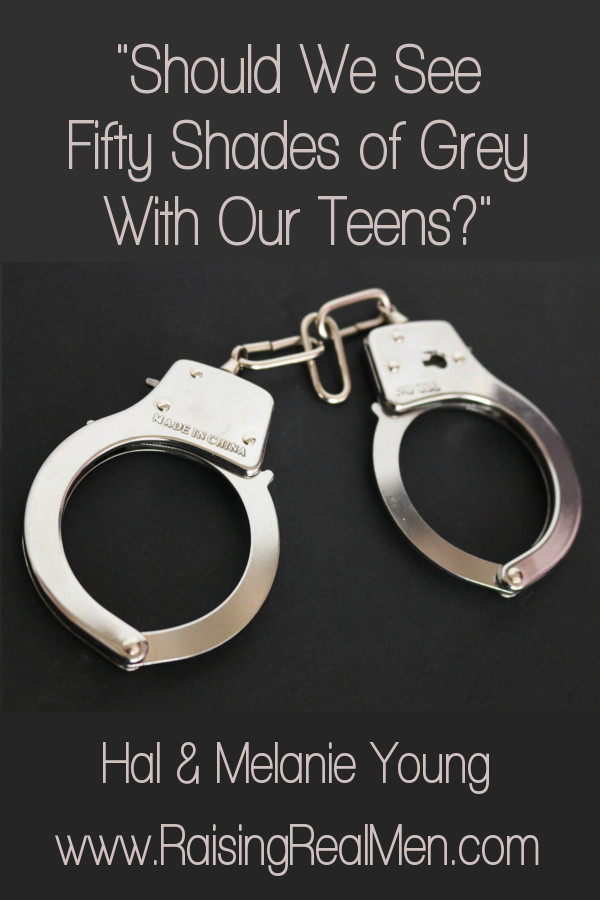 Now, we're being invited to watch a movie that glorifies aggression, bondage, humiliation, and pain in sexuality. Is that something a Christian should do?
I hear people saying, "It's just pretend," but that dog won't hunt for a Christian. The Lord says, "I say to you that whoever looks at a woman to lust for her has already committed adultery with her in his heart." Matthew 5:28
It is wrong to pretend at sin. If rape is wrong, it is wrong for a husband to pretend to rape his wife. Fifty Shades of Grey goes beyond pretend, though.
When the book first came out, we did some research. I remember reading a scholarly article asking if the "consensual" sexual activity in the book rose to the level of domestic abuse. They concluded it did, but I learned something more. The short excerpts they included from the book upset me to the point of physical nausea. Do you really want the one who supposedly loves you the most to get off by hurting you? Really? Do we want that in our children's marriages?
Marriage is supposed to be a picture of Christ and the Church, folks. The whole point of BDSM (bondage, domination, sado-masochism) is to inflict pain and humiliation for sexual excitement. How can we reconcile this? Would Christ inflict pain on his beloved Bride for fun? NO! Instead, he laid down His life and allowed His enemies to torture Him to death to save His Bride, His Church, from eternal death. For us to take our marriage relationship and play out evil is not right.
Satan loves to take what God created and turn it upside down. To completely reverse it. So, now we have Christian wives urging their husbands to go see this movie "to spice up their marriage." Right. The men who are urged in Ephesians 5, "Husbands, love your wives, as Christ loved the church and gave himself up for her," are now supposed to hurt and humiliate those wives? May it never be!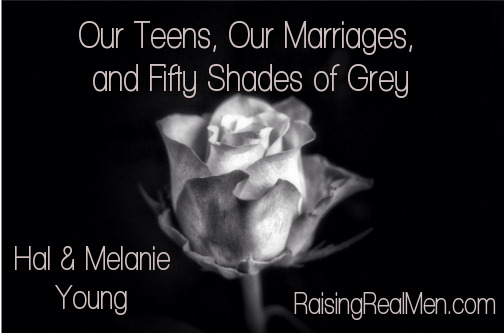 Would you take a moment and really read these verses that proceed the commands to husbands and wives in Ephesians 5?
But sexual immorality and all impurity or covetousness must not even be named among you, as is proper among saints. Let there be no filthiness nor foolish talk nor crude joking, which are out of place, but instead let there be thanksgiving. For you may be sure of this, that everyone who is sexually immoral or impure, or who is covetous (that is, an idolater), has no inheritance in the kingdom of Christ and God. Let no one deceive you with empty words, for because of these things the wrath of God comes upon the sons of disobedience. Therefore do not become partners with them; for at one time you were darkness, but now you are light in the Lord. Walk as children of light (for the fruit of light is found in all that is good and right and true), and try to discern what is pleasing to the Lord. Take no part in the unfruitful works of darkness, but instead expose them. For it is shameful even to speak of the things that they do in secret.
Seriously. It's pretty sad that we even have to talk about this stuff. Instead of trying to hurt and humiliate one another in the marriage bed, we think even our sexual relationships should be marked by the fruit of the Spirit:
But the fruit of the Spirit is love, joy, peace, patience, kindness, goodness, faithfulness, gentleness, self-control; against such things there is no law.
That's the kind of marriage we want to have and we want our children to have. We won't be seeing this movie, much less watching it with our teens. Our culture is already a very long way from Biblical sexuality. Let's not contribute to making it worse.  And that doesn't even touch how deeply we don't want our children to think that this kind of abusive relationship is normal. Please Lord, no. 
If you want to learn about making your physical relationship better in a godly way, this weekend you can download our newest workshop recording, Romance for the Exhausted, free! Just click here. And get our book, My Beloved and My Friend: How to be Married to Your Best Friend Without Changing Spouses. [Hint: Get our Marriage Retreat Online FREE when you buy the His and Hers Special of our book. Just sign up for the free workshop above to see the sale!]
Hal & Melanie