A Letter to Children Who Have Lost a Parent
I am posting this for the children of a friend, who just lost their mother unexpectedly. I wrote this several years ago when a dear friend's mate died. As I read over it just now, I thought that others might benefit if I posted it more publicly.
My dear young friends,
I am writing because I have been through what you are going through. My father died when I was 14 years old. I felt so sad and confused and frightened. I wondered where we would get the money to live on and if we'd have to move. God provided all we needed and we stayed right there in our house and my mother still lives there – and it's been 30 years!! Now my children go to spend the night in my room. I was afraid that everything would change, that we wouldn't be a family any more without Daddy. Although Daddy wasn't with us, and we missed him awfully, everything didn't change. Mama was still Mama, we were still a family, we still celebrated holidays as much as we could like we did before – and we had lots of happy memories of Daddy to share.
I was also sad. I was sad that Daddy wouldn't see me graduate or be able to walk me down the aisle when I got married. God wiped away my tears and comforted me. I know my Daddy is in heaven and that our Lord is telling him all about us. I know he can't wait until we all get to heaven and he can meet my children. When I graduated, all my grandparents came, and I knew Dad was proud of me, even though he couldn't be there. When I got married, my brother gave me away and I never loved him so much as I did then. It drew our hearts together. It was beautiful and special and nothing spoiled it.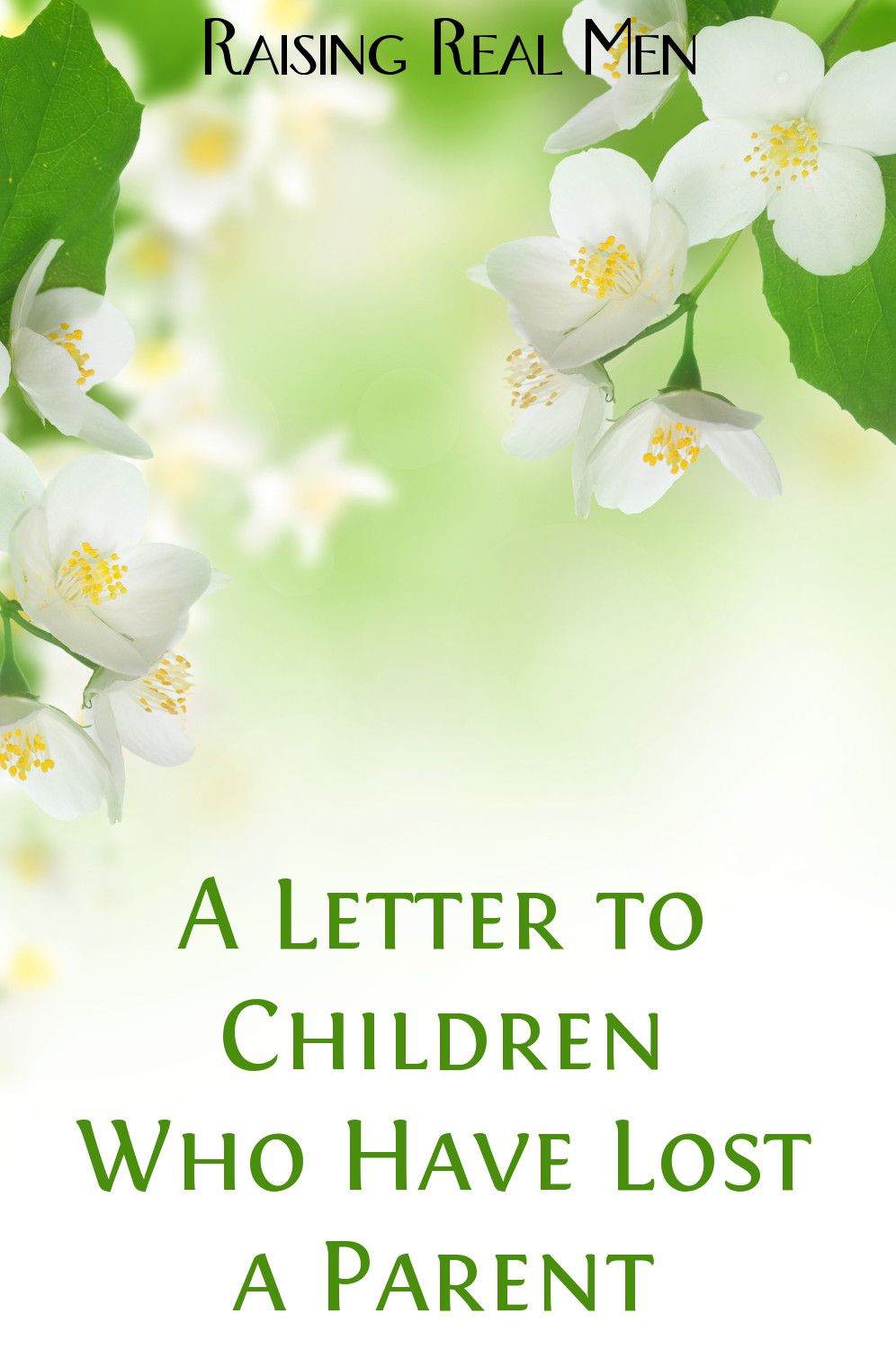 I also felt funny when Dad died. Sometimes I wanted to cry and cry and cry. But sometimes I wanted to laugh and be carefree and pretend that awful things never happen and I was worried that people would think that I didn't love Daddy if I did that. It's okay! When you feel like crying, cry. And pray to the Lord for comfort. When you feel like laughing, laugh. Anybody with any sense knows you love your Mom or Dad and trust me, your parents want you to be joyful. We are Christians and we shouldn't mourn like the pagans do – with no hope. My father is in heaven – perfectly well, enjoying the Lord, and I know he wants the same for me. Don't ever be afraid to be joyful!
I worried about my Mama, too. She seemed so sad and worried. I wondered how I could take care of her and help her. Now that I'm a mother, I wouldn't want my children to worry about me. I am stronger than they are, both physically and spiritually. I would want my children to trust me to take care of them. How can you help your mom or dad that are still here with you? Be honest with your family. Tell your parent what you are thinking about. Share your feelings. Remember your parent that has gone to heaven and help him teach the younger children about him or her and share those memories with them. Obey your mom or dad and do your school work and chores. Give your family lots of hugs and don't worry if the others just have to cry sometimes. That's a great time to pray for them.
It has been over 30 years since my father died, when I was fourteen. I can see the truth of God's Word when it says that God would be a father to the fatherless and a judge for the widows. He has taken care of my mother and brother and me in a great way. We miss Daddy and we will never forget him, but we are happy adults. God has been so good to me! He has loved me and saved me, given me a great husband, blessed me with eight wonderful children. I wish I had known when my Daddy died, that everything would be okay, that I would be happy again, that my life would turn out just right. That's why I'm writing to you. I thought it might encourage you to hear from someone who has suffered what you are suffering and has seen God's mercy. He is faithful. He has taken care of me and He will take care of you. He promises to do it and He always keeps His promises. I love you all for your parents' sake and I'll be praying for you.
With much love and concern,
Melanie Young