California Blend Soup in the Instant Pot® (Broccoli, Cauliflower, Carrot, and Cheddar)
in

We've become enamored of rich, thick soups in the Instant Pot®. It's just so easy! A creamy, heavy soup on the stove would require a lot of attention and stirring to keep it from burning on the bottom. In the Instant Pot®, you load it, set it, and forget it. I love that!

I thought an Instant Pot would just be another useless kitchen thing to stick under the sink. I couldn't have been more wrong. We use this thing nearly everyday! It's meant we can have those wonderful meals that you have to plan ahead for — without planning ahead! I love it so much! (Affiliate link coming!) This is the one I have.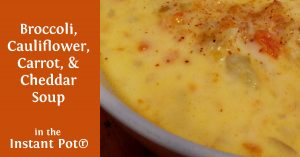 Today, I looked at what we had in the fridge (since it's snowing and most everything is closed) and created something new. We loved it, too!
I was looking for something low carb/paleo, with a thicker base, but no big chunks. If you like your soup thinner, but veggies chunkier, you can skip this step.
First I put a pound of carrots, then a pound of cauliflower, then about two pounds of broccoli through the blender to make them smaller chunks. All were raw, some was frozen. I just used what I had and I don't think it matters whether it is raw or frozen. Chop a couple of onions and throw them on top.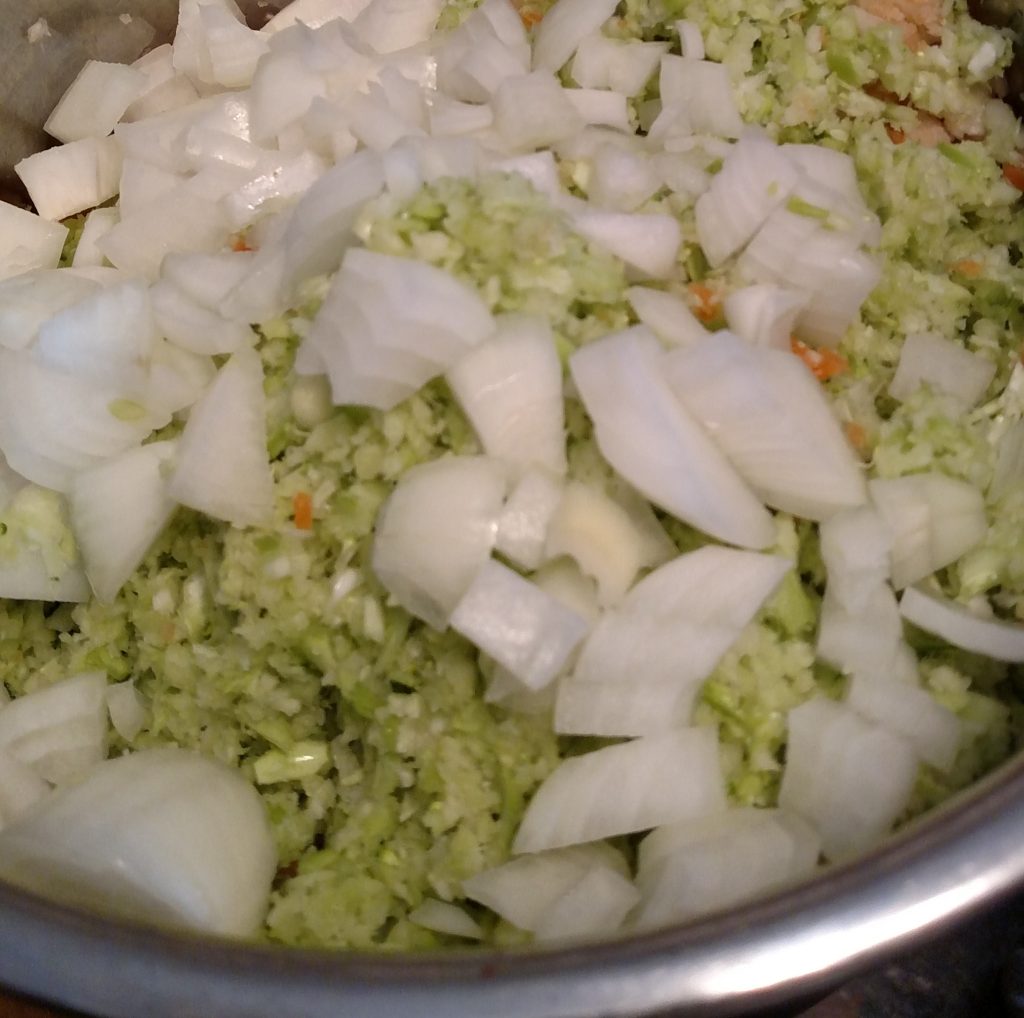 Pour about five cups of chicken broth on top. If you're like me and you never have enough broth around, use five cups of water and about five teaspoons of chicken base. Chicken base, really beef and ham, too, is something you need to have in your fridge. It's like bouillon cubes, but about a million times better.
I like to add boiling water because I'm horribly impatient and the little bit of time it takes to come to pressure drives me crazy. My electric kettle makes that easy. I just start it heating when I come in the kitchen to cook and I've got boiling water whenever I need it. How did I live without that thing??? So thankful John Calvin brought an electric kettle into our lives when he came back from Oxford. Evidently everyone has one in England. Here's the one I have (That's an affiliate link!). It holds almost a half gallon, which is perfect when I want to get something like noodles going quickly.
I put about half the spices in at the beginning, allowing them to permeate through, but also allowing me to season to taste.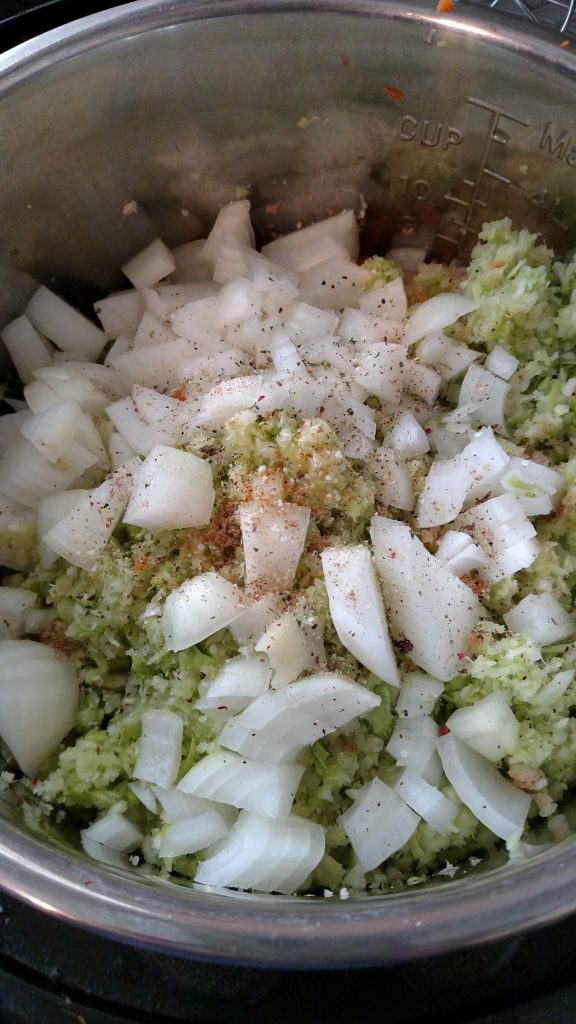 Time to cook! Close it up, turn the valve to seal. Set the Instant Pot® to Manual, High Pressure, 15 minutes. Go take a break. Rest. Check social media. Or, hey, you could buy some great resource in our store.
It looked pretty weird when I opened the pot!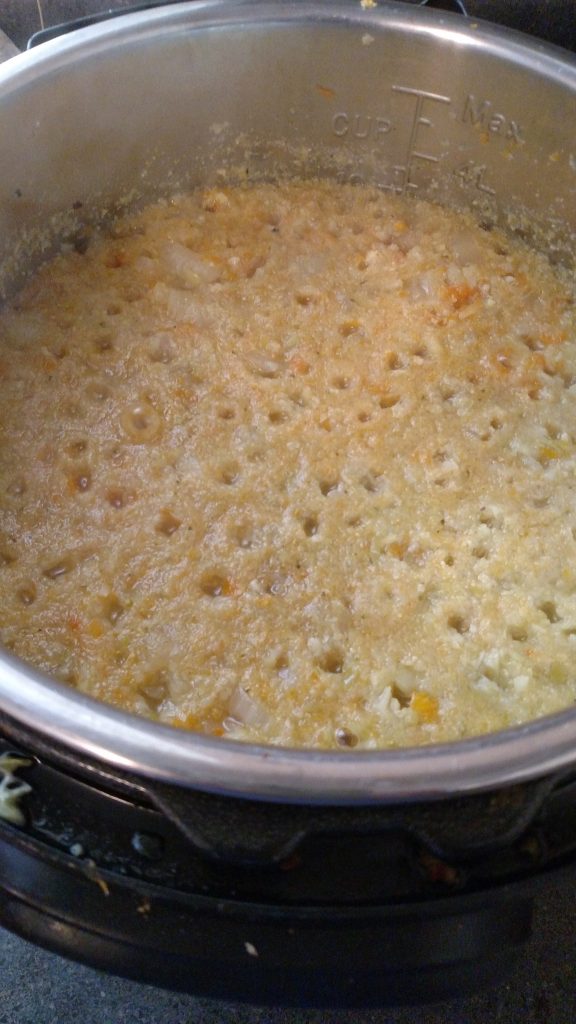 But a little stirring, and it started looking like soup!
Throw in a pound of sharp cheddar, grated, and stir until it's melted. Of course, like in most things, the sharper, the better. Sharp = Flavor.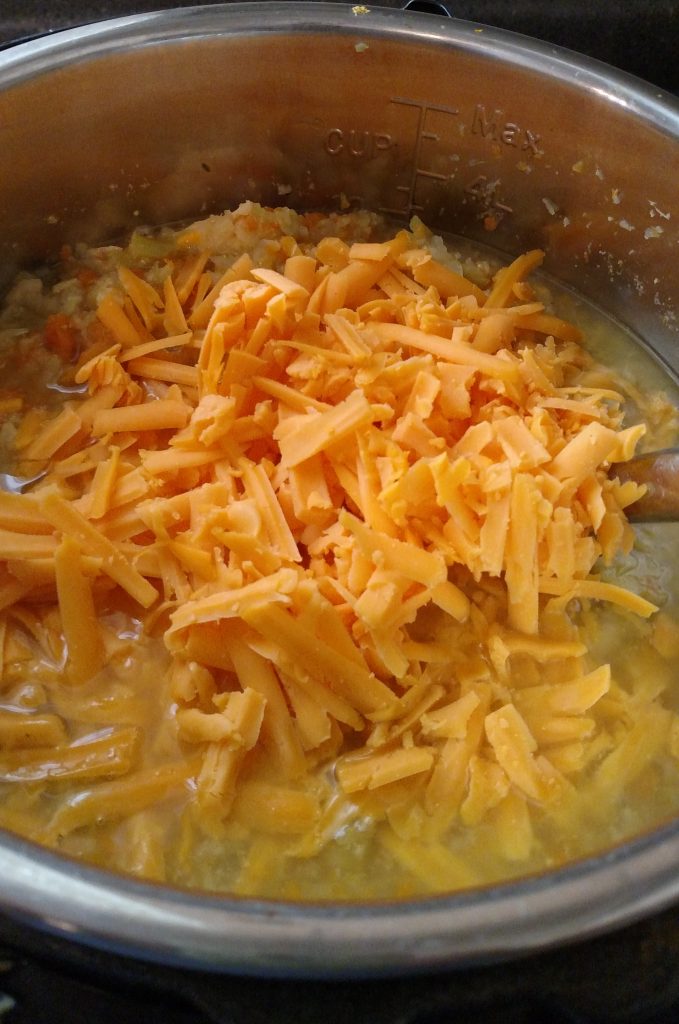 Then add two or three cups of milk or cream. Cream = Richness and Flavor, but it also costs more and has a lot more fat. Make your own compromise. I decided to go with milk this time since I had some luscious looking strawberries I wanted that cream for.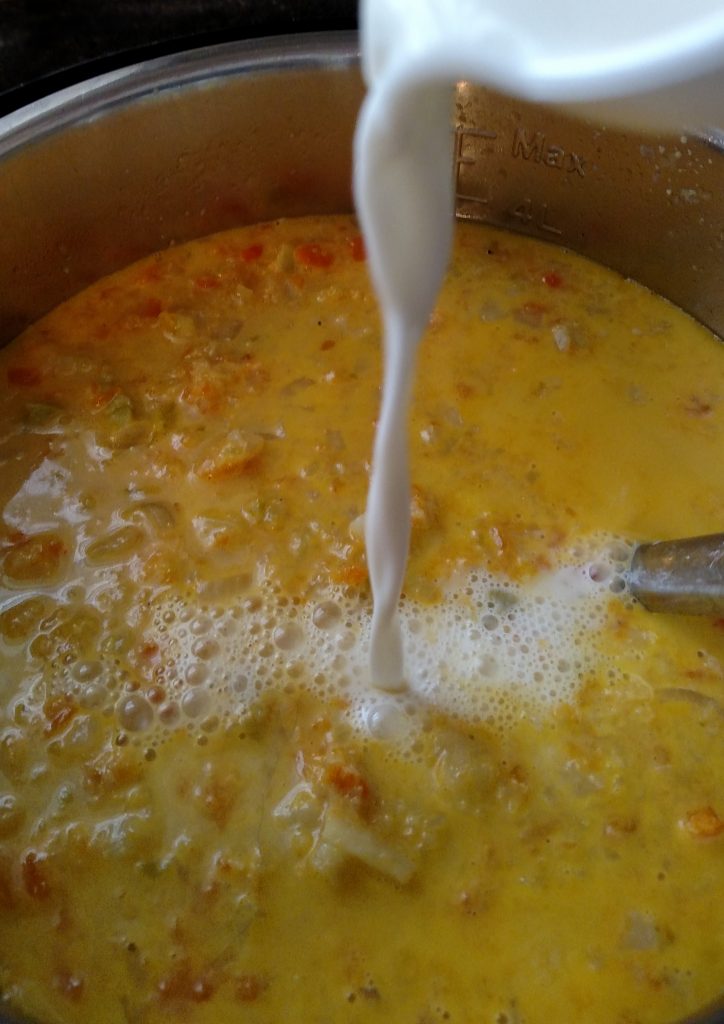 Finally, season to taste. Want to become a great cook? TASTE. Taste everything. If you do, you can make things just the way you and your family like it and your kids will think you are the best cook in the world.
For this soup, I used coriander, mace (but nutmeg will work, too), hot sauce, garlic, and salt and pepper. It was delicious!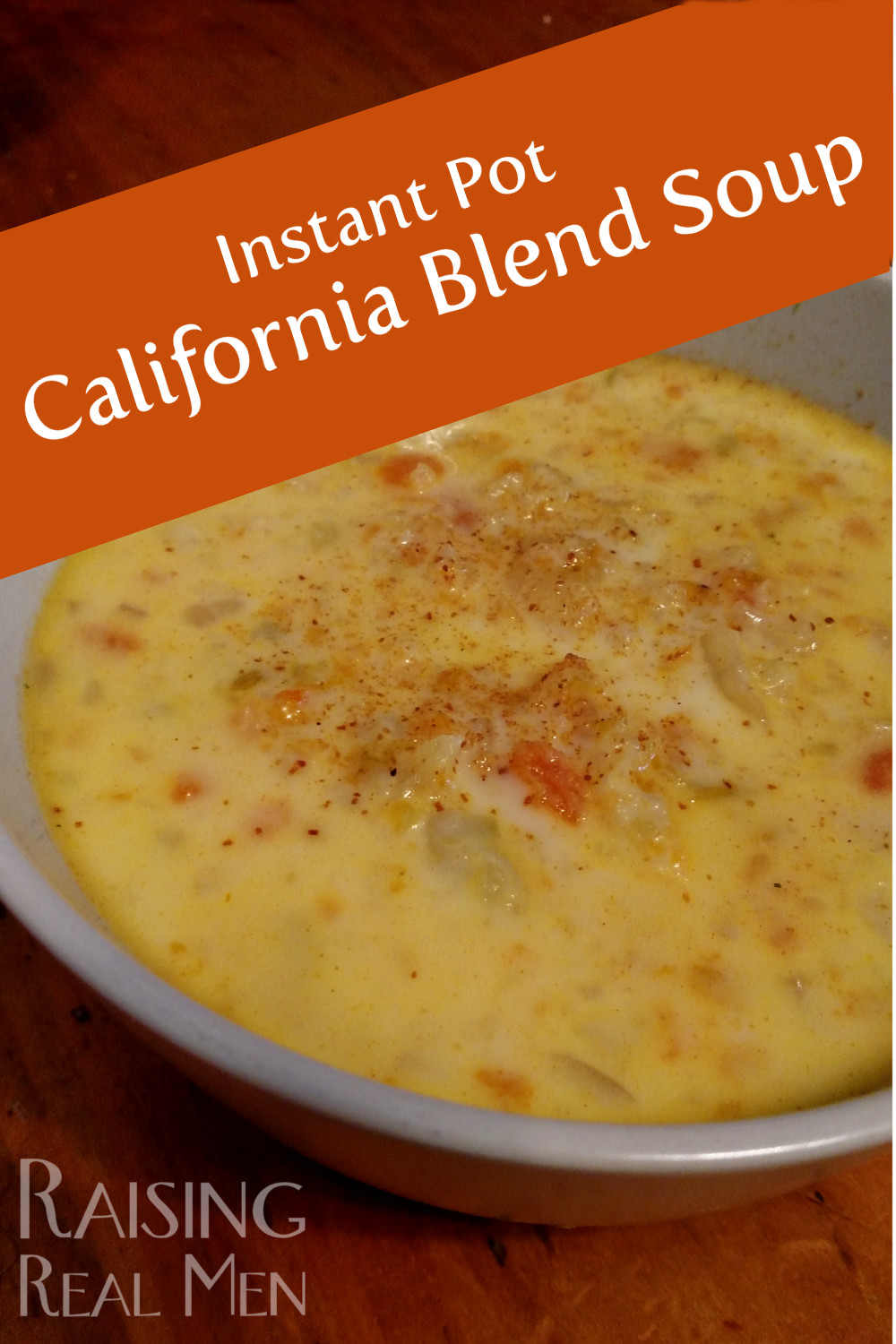 Click here for printable version of this recipe!
California Blend Soup in the Instant Pot®
(This makes a LOT. It pretty much filled up my 6 quart Instant Pot by the time I added all the stuff at the end. If you have a smaller family than I do, you may want to make a half or a third this much.)
2 lbs Broccoli ( I used stems trimmed from the previous day's broccoli.)
1 lb Carrots
1 lb Cauliflower (Again, I used stems and trimmings)
2 Onions, diced
5 cups Chicken Broth, or 5 cups Water plus 5 Teaspoons Chicken Base
1 lb Cheddar Cheese, sharp, grated
2-3 cups Milk or Cream
1 1/2 teaspoons Ground Coriander
2 cloves Garlic
1 1/2 teaspoons Salt
Mace or Nutmeg, several shakes
Pepper, as desired
Franks Hot Sauce, 2-3 tablespoons
Chop veggies, blend if you want thick soup with fewer chunks. Add to Instant Pot®. Pour in 5 cups of broth. Add seasoning, as desired. I add about half.
Cook on Manual at High Pressure, for 15 minutes. Use a quick release.
Add cheese and stir until melted. Add milk. Add remaining seasoning to taste.
Serve with garlic bread, rolls, muffins, or cornbread.
Enjoy!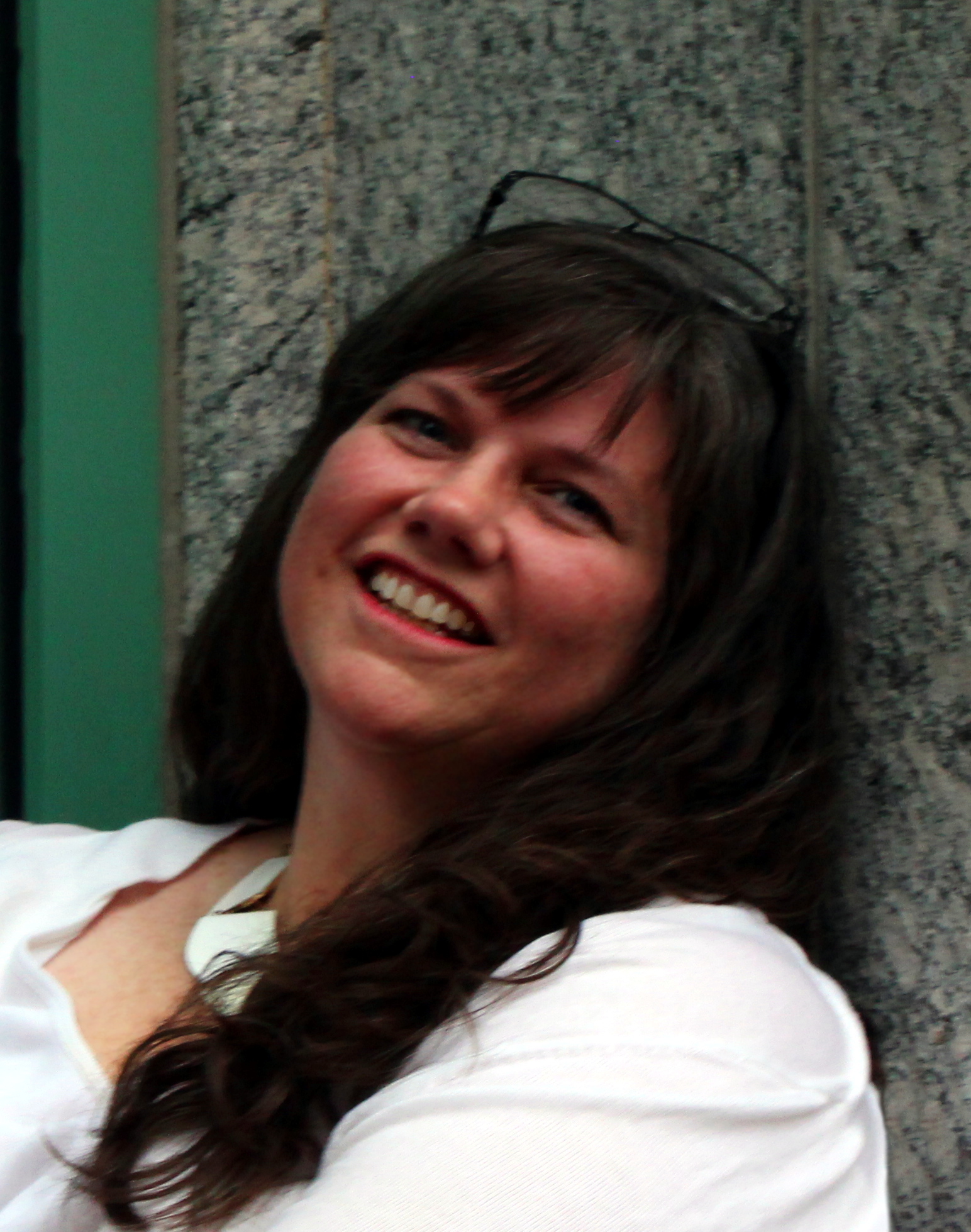 Melanie