Talking to Teens About Ashley Madison, Josh Duggar, and The Rest
in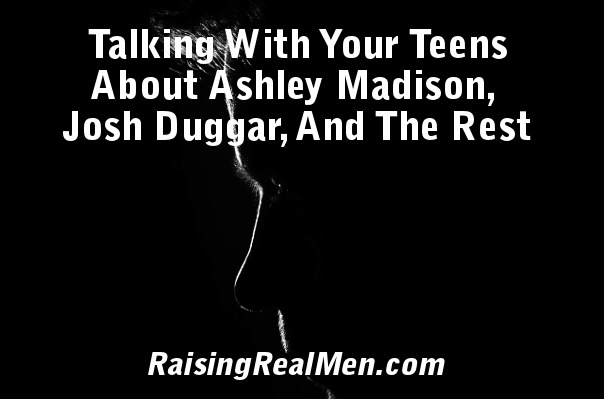 Years ago when Bill Clinton's scandals were news, I hated to listen to the radio in the car because I constantly had to be ready to turn it off or explain awkward things on the way to homeschool P.E. If you have teens, though, there's just no way to turn off the constant stream of news about the adultery hook-up site, Ashley Madison, and the Christians who've had their sins exposed through it.
It's not something most of us want to talk about with our kids, but it's a great opportunity to talk turkey to our teens about important issues. It might be something that will even come up in our church. So, what do we need to tell them about it? How do you even bring this up?
Just do it. "Hey son, have you heard all the stuff about Ashley Madison and Josh Duggar? Ashley Madison is a website where people contacted other people who wanted to commit adultery. Hackers got into their system and have exposed the names of people who signed up. Unfortunately, there were some well-known Christians on that list, like Josh Duggar."
Kids have a very sensitive hypocrisy meter. They are idealistic and they want people to be what they seem to be. Situations like this can really challenge their faith. We need to remind them that if every single Christian is faithless, God is not.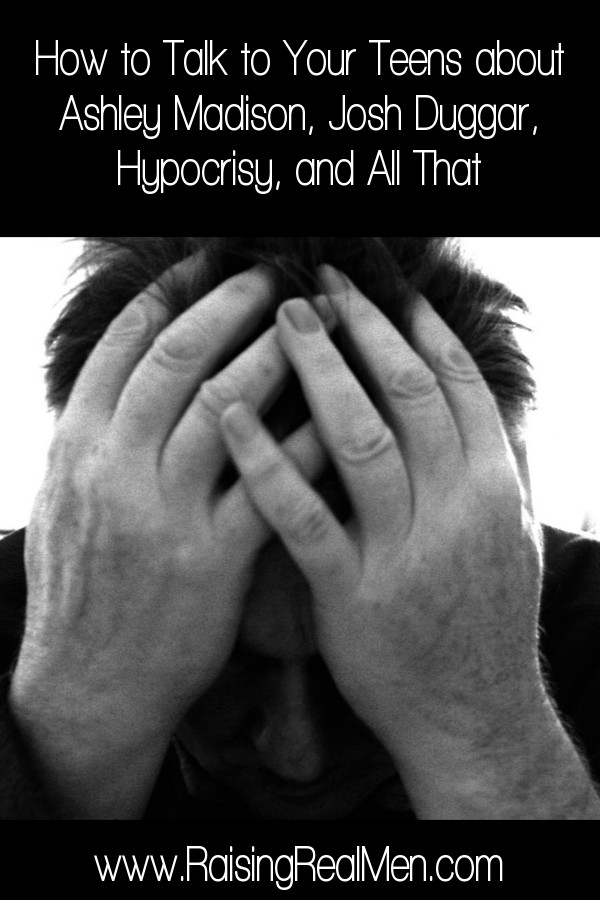 And there are a few things we all need to learn from this:
Sin is dangerous. It ruins lives and not just the life of the sinner. Josh Duggar's sin has betrayed and hurt his wife, his children, and even his extended family. Because of his public profile, it's taken away from the witness of any Christian in the eyes of the world. When we give in to sin, we endanger ourselves and the ones we love.
Don't ever believe it when temptation says, "No one will ever know." The Lord warned us against hypocrisy in Luke 12:
He began to say to His disciples first of all, "Beware of the leaven of the Pharisees, which is hypocrisy. For there is nothing covered that will not be revealed, nor hidden that will not be known. Therefore whatever you have spoken in the dark will be heard in the light, and what you have spoken in the ear in inner rooms will be proclaimed on the housetops.
The Word tells us to "repent and believe." Repentance is to be sorry for sin and to hate it and forsake it because it's displeasing to God, as the Catechism for Boys and Girls puts it. Although temptations will persist until we go to be with the Lord, if we're truly repentant, we don't go chasing after sin, and we don't make sin our lifestyle.
Sexual sin is a slippery slope. The early temptation is just to look at a few pictures, to click on a link, to think no one will know. This kind of sin is addictive, though. It causes a hormone cycle in the brain that makes you crave more or more intense stimulation – from bad to worse. The first sin leads you to more sin. Before long, you might find yourself doing things you never imagined you would. Stay away from porn. It's a gateway sin (and it's a drug, too).
If you've got a secret sin, confess it. The temptation is to hide our sin, but Proverbs 28 warns us, "He who covers his sins will not prosper, But whoever confesses and forsakes them will have mercy."
"Son, if you find yourself in any kind of sin like this, if you've been looking at porn, for example, come to us and confess it and let us help you get out."
Trust God, not men. Men fall. People sin. God, though, is always faithful. He's faithful to keep us from sin, too, if we'll submit ourselves to him:
Now to Him who is able to keep you from stumbling,
And to present you faultless
Before the presence of His glory with exceeding joy,
To God our Savior,
Who alone is wise,
Be glory and majesty,
Dominion and power,
Both now and forever.
Amen. Jude 24, 25
That's pretty encouraging and it's the answer to all of this. He can present us faultless, through the blood of Jesus Christ. "Son, that's the only answer to all of this – Christ. Flee sin and believe in Him."
Have you talked with your teens about this stuff? How did it go?
Hal & Melanie