Hope For Homeschooling With A Newborn
in

A reader asked on our Facebook page,
"I'm so frustrated. I have three boys: 5, 4, and 2 and a two week old little girl. My teacher husband just went back to work and I feel like I'm drowning. I'm exhausted and I feel like I have no control in house so I find myself yelling. I really dislike yelling so I give myself a pep talk teach morning that I will do better today. I pray for patience each morning but I feel like a complete failure. Our new baby is fussy and the boys are taking advantage of the time I have to spend feeding her or trying to calm her down and they are WILD. I try to provide structured activities but it hasn't helped. To top it off, I'm getting pressured by both my "against homeschooling family" and my "perfect homeschooling friends" about my five year old who doesn't read or write his name yet. I feel like such a failure every day. I expect them to show God's love yet I'm being a horrible example. I don't even know what to do."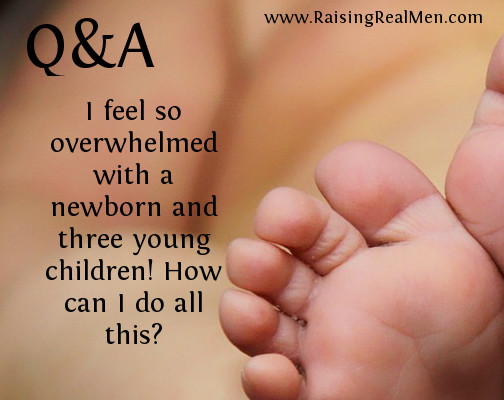 Dear sweet mama, it's going to be okay. Having three or four littles was so hard for me! I felt like everyone needed me every second. This isn't going to be forever. I wish I'd known how quickly it would all pass. Before long your oldest will be able to help you out by making sandwiches and rotating the dishwasher and helping to entertain the others.
If family and friends are critical, ignore them for now. They may have forgotten what their house was like when they had very little children. When you've been homeschooling ten years and you've got teenagers to help out, you can look like one of those organized, put-together families, too. Right now, give yourself some space! 

Don't let people put unrealistic expectations on your children, either. Five is very young for a boy to read or write, and it's a stressful age to even try to get them to. Just tell your friends, "He's doing great in school" — which he is, if he's working at the right developmental level. It's none of their business. Homeschool moms who interrogate their friends about what their kids are accomplishing are likely just trying to show off or make themselves feel better.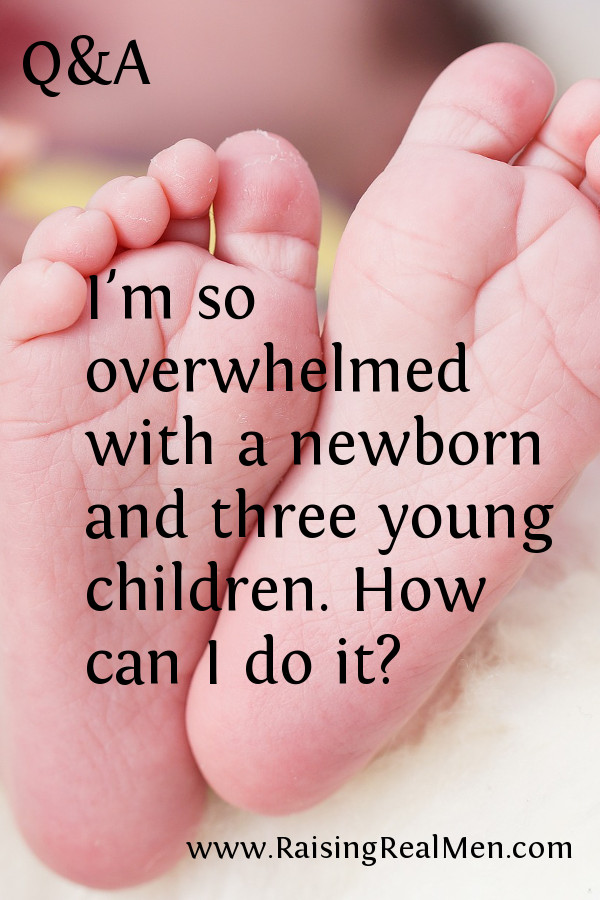 You're still recovering from childbirth – embrace it! You have a newborn, sweet mama! You need time and rest to rebuild your strength. 
Build your own nest. Get comfortable in a recliner or rocker with everything you need for the baby at hand. Put up some baby gates to keep everyone nearby. If family or friends call, tell them you'd love it if they'd bring by a meal. 🙂  Take care of yourself and those babies!
And take it easy on the schooling for now.  When you've got a baby that young, it's still too early to be doing formal school or having any expectations at all other than getting through the day. So here are some ideas to make life easier —
Get yourself some educational videos for the kiddos to watch. We loved the Moody science videos. They're both calm and fascinating and there are a bunch of them! Click here to check them out. 
Try some audiobooks. Our guys loved the Sugar Creek Gang when they were little.
Get one of those mini-trampolines so they can get their energy out without you having to get up.
Go ahead and take the time you need. Read your kids lots of great picture books and stories. Snuggle. Survive. It will get better!
Do you have any tips for surviving the newborn days? 
For more help and encouragement, download these workshop favorites below: Homeschooling a Houseful and Homeschooled from the Beginning: Teaching Your Children. They'll reduce your stress and give you practical ideas!