Meet the Geology Detective!
in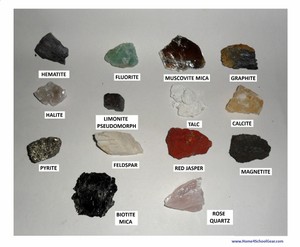 I was dreading it a little bit when my dear friend Teresa Wirtz asked me to review their new Rock and Mineral Identification Kits. I knew the boys would be thrilled – there's just something about boys and rocks – I think they all love them, but although I am a science person (my degree is in Biology and I about have enough for another degree in Chemistry), I know nothing about rocks. I mean, they are like, um, hard and in the ground, right? Well, it's not quite that bad, but I've done rock identification kits before and I *hated* not being sure that what I was telling the children was right. I couldn't even be sure I was doing the test right. That's traumatic for a type A personality like me.
Well, the Geology D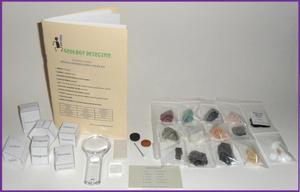 etective Mineral Identification Kit  is not that sort of kit!
 Teresa and Joe Wirtz are parents of six and longtime homeschoolers themselves. They understand the annoyance of finally getting enough time to get that science experiment done, only to find out that you don't have everything you need! Arrggghhh! So, Teresa and Joe have put every single thing you need in these kits. I remember trying to do rock identification with the boys years ago and thinking "White streak plate? What is that? Oh, I can use a piece of a ceramic tile. Well where do I get that?" Well, the Geology Detective includes it! These kits contain everything you need. Seriously, even the penny! What a stress-reducer that is.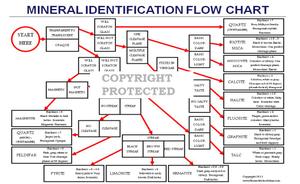 The other great thing about these kits is that there is no wondering if you got it right! Each rock or mineral comes in its own little bag with a label. Whew! I always remove the label from the one we're testing so I don't ruin the surprise for the children, but it helps me enormously to know what the expected results should be. That way, if we don't get the expected results we can figure out what went wrong rather than fumble around in ignorance. Their charts are so understandable!
Those things make using the Geology Detective kits something you don't have to dread. We greatly enjoyed using ours, and I came out of it completely untraumatized!
I've got to say a word about the Wirtz family, too, though. They live in our area and we've known them many years. Joe coached our eldest John Calvin in debate and greatly influenced him to be able to defend the faith. Teresa has been a dear friend, too, praying for us and encouraging us and lending a hand, too. Even our dog loves them (that's where she stays when we travel).
Now, I wouldn't say buy this because they are our friends, because I value your trust in us too much. But to be able to recommend a great product produced by a great family? Well, that's a lot of fun! The Geology Detective Series is highly recommended.
Geology Detective Rock and Mineral Identification Kits, Joe & Teresa Wirtz, Home 4 School Gear, $34.99 $29.99. Click here to buy now.
A Give-Away!
Teresa has generously offered us a Geology Detective Mineral Identification Kit to give away! Here's how to enter:
First, go cast your ballot for the Christian Small Publishers Book of the Year. Click here, then scroll down to NONFICTION – RELATIONSHIPS / FAMILY, where we sure hope you will vote for Raising Real Men! (And King Alfred's English, too — we're reviewing that tomorrow!) Be sure to hit the "Submit Votes" button at the bottom! If you've already voted, great — keep reading…
Then, comment here and let us know you did – that's all!  Want more entries? Post a link to this post on your Facebook page, Twitter, blog, or email loop and come back here and comment that you did. You can get an entry for each time you share! And you can go back to the earlier posts in the past few days and enter there, too!
Hey! If you have sons that are 9-12 years old, check out our new Boot Camp 9-12. Get geared up for the teen years! And thanks for voting! Stop by every day to join the celebration that we've been nominated for Book of the Year!
We received a free copy of this curriculum in return for our always honest review.