Q&A: How Are We Supposed to Interact With Our Son's Girlfriend?
in

A reader asks, "How and when do you embrace the special girl in your adult son's life? My son is 20 and this is his first "girlfriend". They've been developing this relationship for 4 months and it seems serious. We have her over periodically but don't know when to take that next step."
It's a good thing when our children get to be old enough to pursue a mate! We've been praying for our children's mates as long as we've had children. We can't wait to meet them!
How do you know, though, how to interact when they're "interested" — when they're in a relationship, but it's not permanent yet? What if it doesn't work out? What if it does?
This is such a balancing act. Our policy is to be friendly and welcoming, just the same as we would be with one of their male friends. They're invited to activities and we try to make them feel very welcome. After all, we'd like to meet the people who are important in our adult kids' lives – especially if there's more than a co-worker friendship involved.
However, we think it's important not to act like she's part of the family until she is – or nearly so.  The truth is, every relationship doesn't result in marriage–a successful relationship may be one where the two friends realize they're not right for each other! So to avoid awkwardness in the future, we try to get at least a few pictures that include the special guest, and a few that don't. An easy way to handle this is ask her to be the photographer for a few of the family snapshots.
And some events like family reunions and weddings might be better left until the couple's engaged … to avoid awkward memories and questions from the extended family if the present relationship doesn't work out!
If this really might be "the one," how can you start on a good footing?  There's a lot of value in just befriending your son's special friend. I've appreciated the girls' invitations to be friends on Facebook and enjoyed it when they started conversations that allowed us to get to know one another. We moms have to be careful, though, to let the young folks take the lead – to be open and friendly, but not pushy or stalkerish! I want to have a good relationship with my son's wife in the future!
Moms need to be careful to guard their hearts, too. It's easy to let ourselves develop strong affection for or dislike of someone their son is considering. This has got to be their decision, ultimately, because they've got to live with them. Of course, we'll share any red flags we see – and our kids are much more likely to consider them if we're leaving them in the lead.
Also, this is a great time to be a blessing to your son in helping him think things through. Ask him sometimes, "How's it going with this relationship? Where do you see it going next? What kind of time frame do you have in mind?" Ask him if they are studying the Bible together and encourage him to bring up the questions he'll need to get answered before the next step.
We need to give our guys wisdom in this area without being bossy or directive, since they're adults. We are working on something to help with that. It's an app with conversation starters for young people in relationships. Now, this is a super-secret beta-testing preview version, and it's not quite ready for prime time, but you guys are welcome to have your kids check it out. The earlier stages are more complete than the later ones and we'll be adding user accounts soon, but here you go… It's called More Than Friends!  If you check it out, we'd love to hear your feedback.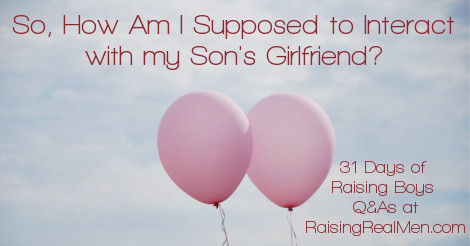 One of my friends said her son told her, "Mom, you guys have done a great job teaching me how to be a husband, but I have no idea how to be a boyfriend!" Even for those who believe in a courtship model, there's got to be some courtship going on! After all, our sons do need to win the heart of the girl they will marry. As they get more and more of their questions answered and everything looks like a green light, they need to be getting more romantic. Our guys may need some suggestions here for flowers or cards or candy. They might need you to help them think of fun, romantic things to do.
This is also a great time to encourage our guys to guard themselves and the girl they care for against sin. Talk to them about "error-likely situations" they may face – being alone too much, being tired, being together too late at night, and how to avoid them. Encourage them to discuss standards with each other and to commit to maintaining a pure relationship.
That's a long answer to your question, but it is such an important one. Family is a key part of the process of finding a mate. We tell our guys to get to know the other family "…because if this works out, they'll be your family, too." Likewise, our guys have wanted us to get to know the girls they've been interested in, "Because I really like my family, I want someone who likes them, too!"
We'll be talking about finding a mate and lots of other important topics to discuss with your teens in our newest online class series, PreFlight, which starts in just a few days. Come join us!
Melanie