Hope When You Feel Like a Homemaking Failure
in

Maybe I'm just a fail-sore (as my kids say), but there are days I don't want to think about homemaking. Days I don't want to even be at home in my house.

I remember reading The Hidden Art of Homemaking by Edith Schaeffer (Francis Schaeffer's wife – and if you don't know who he is, you ought to find out!) when I was a young married. It gave me a vision of homemaking as a ministry to my family. I wanted my home to be lovely, nurturing, inspiring – a homey home! 

Enter reality. We've had a few challenges. Cancer. Sick Children. Surgeries. Job issues. Business start-ups. Moves. Chronic illness. You name it, we've pretty much had it. Result? The house has suffered. A lot.

Then we started traveling to speak. Once we traveled a huge circle route around the U.S. Temperatures ranged from the thirties to the hundred and tens! We spoke at conferences and churches and camped. You can see where this is going. We got home with all our clothes dirty – winter and summer, dressy and grungy! For all of us! Can you imagine??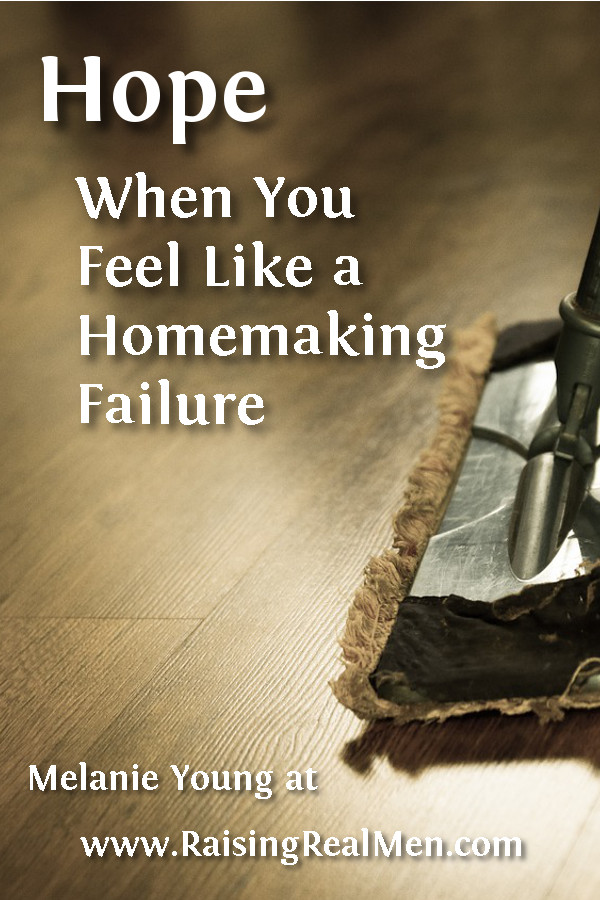 That's been pretty hard for me to cope with. A messy house annoys me. It stresses me. It makes me feel like a failure. I'm beginning to learn a few important things, though.
Beating myself up until I'm grumpy and ill-tempered is counterproductive. No one is motivated by snide remarks and especially not children!
The children will remember the love and joy in our house far more than they will how neat – or not – it was. Really, holding the baby or reading to my young children or heart to hearts with the teens will do more to make our house homey than all the housework in the world.
That said, how do I get it done?
When I feel overwhelmed, I need to just start somewhere and get something clean. When even a small area is orderly, it gives me hope and makes it easier to do more!
When the children are overwhelmed, it helps to break it down into doable chunks. They're a lot like me. It's a lot easier to pick up 10 books, then 9 books, then 8 books, etc, then it is to face a big jumbled up room.
Many hands make light work. When you're facing a tough situation, it helps sometimes to work together. It passes the time and keeps everyone's spirits up.
Music or an audiobook can make the work more fun. Videos, though, just don't work in my house. Our guys are too easily captivated even to fold clothes while watching something.
Ultimately, I've just got to lean into the crazy, as my friend, Rachael Carman says. Our lives don't look like they're going to get calmer any time soon, so I've just got to learn how to have a homey home in the midst of the chaos of life. That means letting go of my unrealistic Pinterest perfect expectations and figuring out what matters to us.
We'll pick up and get caught up, but I don't want to forget the things that matter the most of all to us: a Christ-centered home and lots of laughter and love. Chores and housework, cooking and cleaning, decorating and organizing are all important. But, they're only one part of making a house a home. It's the heart that matters. That's why we've got to let go of the guilt, stress, and anger. Our families need an orderly home, but they need a happy mama even more!
 Find out more about the Ultimate Homemaking Bundle at our links here and here! Or, head on over to their site first and once you've bought, come back to sign up for either Boyhood Boot Camp or Marriage Retreat Online free!