Man Food: Pig Picking Cake
in

This is a super-fast, super-yummy, super-easy fancy cake. It's called a Pig Picking Cake (or Pig Pickin') because this is the dessert traditionally served at a Pig Picking here in Eastern North Carolina. A Pig Picking is a huge outdoor party where the main attraction is a whole pit-cooked pig (or one cooked in a cooker made out of a huge iron pipe or barrel cut in half and hinged to make the biggest grill you've ever seen.).

The meat is pulled off and seasoned with a peppery vinegar sauce. We eat slaw, boiled potatoes, Brunswick Stew (a spicy, tomatoey stew with veggies, chicken and pork), and corn sticks (cornbread fried in long narrow stick-shapes) or hush puppies with it. Fried chicken and fried pork skins are sometimes served, too. Sweet tea is de rigueur. Sweet tea so sweet hummingbirds will choose it over the flowers.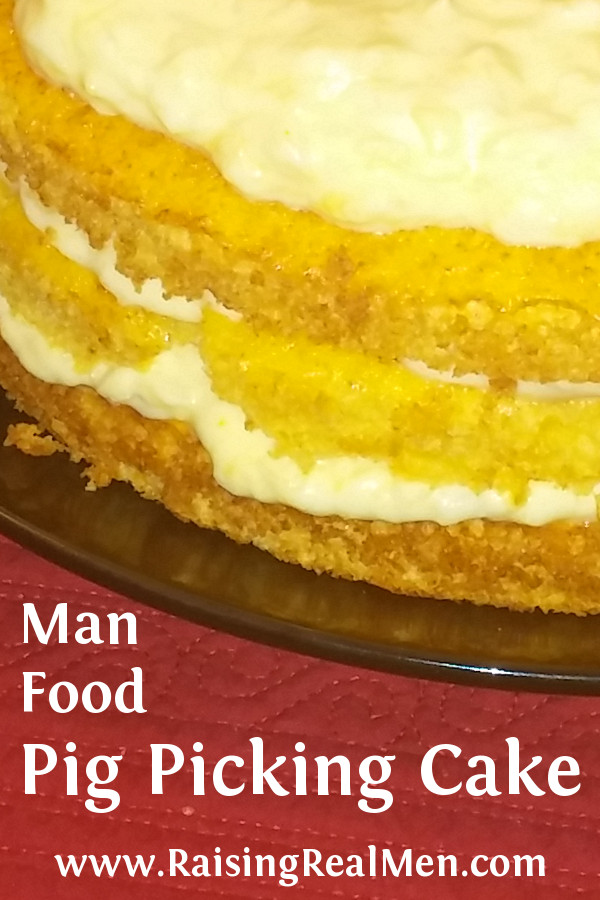 For dessert, you'll often find Pig Picking Cake. It's a citrusy, light-tasting dessert that is just perfect after barbecue. Honestly, you'll love it and so will your guys. Here's how to do it:
Pig Picking Cake
1 yellow cake mix
1 15oz can of mandarin oranges, don't drain them
4 eggs
1/2 cup oil (I'll bet coconut oil would be yummy in this. I think I'll try it next time!)
For the topping/filling:
1/2 pint heavy whipping cream (okay, you can get 8oz of whipped topping, if you must)
1 can crushed pineapple, don't drain this, either
1 small box of vanilla pudding mix, the instant kind
Dump the cake mix, mandarin oranges (oranges, juice or syrup and all), the eggs, and oil in a bowl and mix well. Spread in three buttered round 8″ or 9″ cake pans. Bake at 350 degrees until a straw stuck in the top comes out pretty clean. Baked goods are usually about done when you can smell them cooking. 🙂  Invert onto a plate, then invert again until top up on a plate. Let cool completely.
Whip the whipping cream (or defrost the whipped topping, but really you ought to try it with real whipped cream!). Mix the pineapple (juice and all) with the pudding mix until well mixed and beginning to thicken. Fold the whipped cream (or stuff in a tub) together with the pudding until it is one color. Spread about a fourth on the top of one layer of cake, top with another layer and repeat, top with another layer and the rest of the topping. Slice and serve. SO delicious!
This is a great dessert after any heavy meal or for a summer treat. Enjoy!
Your friends,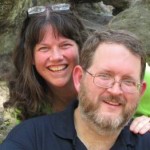 Hal & Melanie