Giving Devices for Christmas
in

As parents, we have a love/hate relationship with all the devices in our home. We depend on our laptops. We run our business from them and our teen/twenties sons run their businesses from theirs, too. We use them to communicate with each other – especially the grown up kids in other states. If we need to do a radio interview or lead a webinar, nothing will keep the younger ones quiet like letting them play with apps on a tablet or watch a movie on Netflix. No doubt, they're useful and convenient.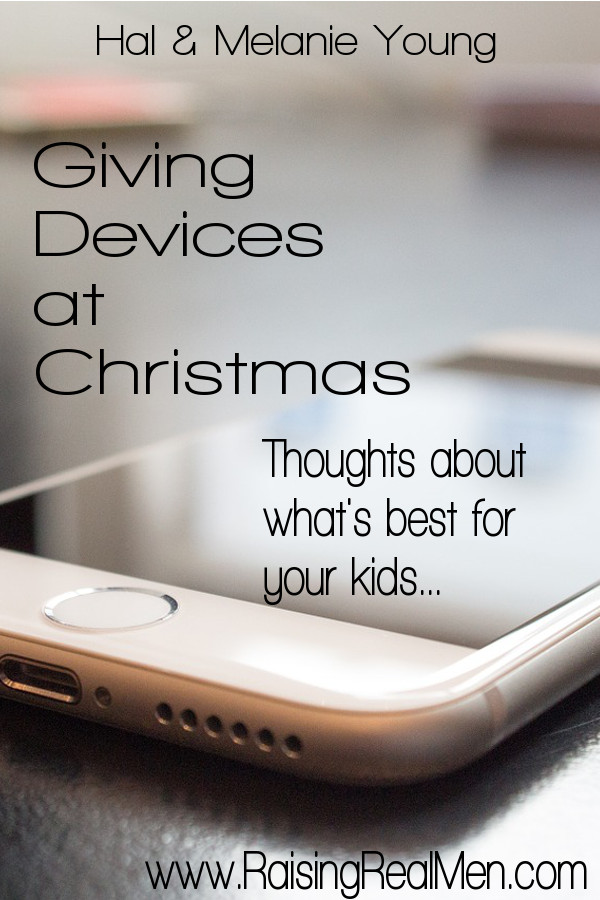 We've noticed, though, that too much time on those devices and our kids start acting like crack addicts: "Can I use your tablet?" "Can I just play a few minutes?" "Just one game…" "I'll rotate the dishwasher if I can use your computer." Begging, nagging, bargaining…
And they lose their imaginations. "I'm bored." "There's nothing to do." "Can I use your tablet?" "No one will play with me!" "Can I play a game on the computer?" Yeah, mackerel.
If we suck it up and say, "No. No way. Go pretend. Play. Read. Do something else," they whine for a while … but then their brains come back on. Pretty soon they're building a fort with couch cushions and sheets or dressing up as the King and Queen of Siam or something.
It's a balance. Like it or not, our digital devices are part of our society, and by the time our children leave our home, they need to have enough experience with devices and social media that they know how to use them wisely and righteously. Many a kid has left a home where he wasn't allowed to play online games, arrived at college, and flunked out because he hadn't learned self-control. It's better to teach them while they're home, so the freedom of early adulthood doesn't overwhelm them.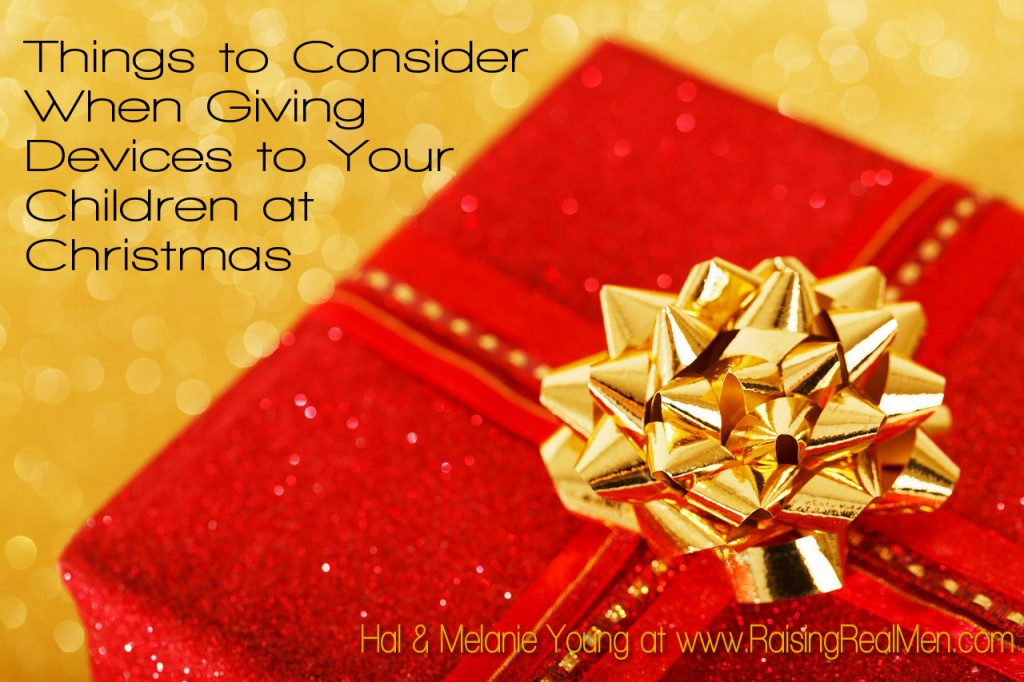 In our opinion, younger kids don't need their own devices. Beside being an entertaining distraction when children need to be imagining and pretending on their own, devices which go online are a doorway into an adult world that offers enticements they aren't ready to resist. We're hearing from parents of 7- to 9-year-olds who've discovered their youngsters watching porn videos or downloading pornographic books to their e-readers. Younger kids really need the accountability of sharing the Kindle or tablet.
Do you wonder how do kids that age even find out about that stuff? It's not hard. Maybe they hear someone use a word they don't know. It sounds naughty so instead of asking a parent, they Google it – and presto, they're exposed. Or, maybe a friend or neighbor or cousin shows them how to get to it. If a kid's been restricted from using his own device for that stuff, he's going to try to access it on someone else's.
Use the devices with younger kids when you need to, but don't let it become a constant babysitter. They need time to think and pretend. At their age, boredom will eventually drive them to be creative. Don't spare them that motivation!
On the other hand, your teens need access to the Internet. Soon they will not only have open access at school, the library, or at work — they'll be expected to use the tool for their classwork or on the job. We need to teach them how to use their time online responsibly and how to avoid the temptation to fritter away hours chasing links and wandering through trivia. We need to teach them how to recognize scam artists, spam email, and untrustworthy information sources.
Don't forget social media, either. Around 15 or so, you ought to get them set up on social media and teach them how to post safely (not sharing too much), wisely (not saying things that could be misconstrued) and kindly (not ragging friends in public and certainly not bullying).
Supervision and accountability are important for all of us. Half of evangelical men confess to being addicted to pornography, but teens are the largest consumers of it. Some research indicates over 90% have been exposed, over 80% have even been exposed to what most would consider perversions. How can you teach your children to use the internet wisely when this huge trap is lurking out there for them?
First, teach them about sexuality from a Biblical perspective and warn them about the dangers of porn. Remind them not to look up embarrassing words, but to ask you – and be approachable when they do! Learn more about talking to your boys about sexuality in our workshop, Shining Armor: Your Son's Battle for Purity. You can order it below, or read more about it in our Guide to Purity here.
Also, make sure you have some kind of accountability on EVERY internet capable device in your home. We use Covenant Eyes. It's incredibly flexible. For $13.99 a month, you can set up a separate account for every member of your family, deciding for each one whether to use filtering or accountability and at what level of concern. That's fantastic when you have kids almost old enough to be on their own and little kids in the same house! There's no, "It must have been my brother," when everyone has their own sign in, either.
Covenant Eyes isn't perfect and a determined, programming-savvy teen can bypass it, but if you check the hours of use on their reports, it's going to be pretty obvious they are when you saw them on the computer all day and their report shows no use!
Be sure to choose devices that CAN be set up with accountability software. This guide from Covenant Eyes will help you make a wise decision.
The sooner you institute accountability and the more you emphasize that everyone, even you, are being accountable the less resentment they'll have. In fact, they are likely to ask you to keep them accountable even after they've left home!
Just don't wait around. We've had too many emails this year from folks who've said, "We've heard you say it again and again, 'Get accountability!' but we just hadn't got around to making a decision and now the most awful thing has happened…" Please don't wait only to find out your 7 year old is watching porn or your 13 year old daughter is being groomed by a predator or your teen son is taking inappropriate pictures and sharing them. These things happened this year and their parents wrote to tell us how heartbroken they were. Get something and find the perfect program at your leisure once your family is protected.
If you're on  the fence, you can try Covenant Eyes FREE for 60 days if you sign up before December 19th through our link.
Devices are here to stay and there's a lot of good that can be done with them. The children love playing Stack the States. The older guys love Minecraft.The teens and adults use them for ministry and business. We've just got to make godly decisions about how they'll be used in our homes. We want them to be a blessing to our family, not a trap for our souls.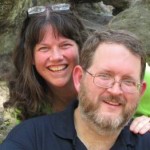 Merry Christmas!
Hal & Melanie
Please visit our Merry Christmas Shop for Great, Character-Building Gifts for the Whole Family!
This post contains affiliate links which help to support our ministry, but we only link to things we recommend – and usually use ourselves!