Celebrating a Year Podcasting!
in

It's hard to believe we've been podcasting for a year! Our show, Making Biblical Family Life Practical, has been great fun! We've talked about raising boys, homeschooling when you feel like a failure, about how men can love their wives better, family businesses, staying Christian in college, and lots of other stuff relevant to family like yours and ours.

Did you know most of our shows are live? Unfiltered? We love to just have a conversation with each other and with you guys. Our favorite episodes are the ones where we interview guests or take your questions. It's not the best part, though…


The best part is when we meet you guys, our listeners! We love to have you come up at conferences and tell us you've been listening and somehow the Lord has used it in your lives. That's a huge encouragement to us!
It's not just our show that's a year old – our whole network, the Ultimate Homeschool Radio Network, is a year old! It's been blessing homeschool families with fun, informative, and encouraging radio broadcasts every single week. All of our shows can be 1) played through the internet 2) downloaded to your computer or 3) subscribed to in iTunes as a podcast.
As a newsletter subscriber for the Ultimate Homeschool Radio Network, you can get free audios sent to you every single week through email which makes it super easy to try listening. All of our shows are free!
As we celebrate our one year anniversary, several of the show hosts are joining together to offer a spectacular Anniversary Giveaway – you can win an iPad Mini!
Enjoy an iPad MINI on us! Participating Shows are listed in this Giveaway form.
There's an entire year of totally free podcasts that talk about every aspect of homeschooling — planning, curriculum, children, marriage and more! It's an exciting line-up of shows! This is a thank you for all of you who are current listeners OR those of you finding us for the first time!
Here is a snap shot of our current shows: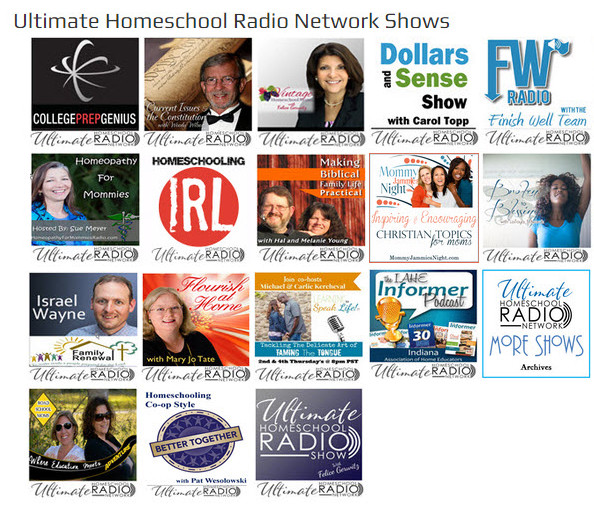 And Here is our GIVEAWAY!