Hearing History: The Mystery of History
in

To enter these giveaways, join us for our free LIVE webinar, Ballistic Parenting: Surviving and Appreciating Boys on Monday, January 27th at 3pm Eastern OR download the workshop and listen any time before February 3rd. Register free here!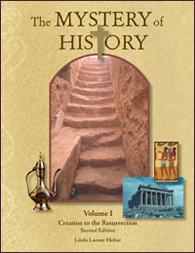 You know we love using audiobooks for history if you've ever heard our Hero Tales from American History. Now, you can get The Mystery of History in audiobook, too!
Bring The Mystery of History Volume I Second Edition to life! Through a CD Audio Book set (or downloadable MP3 files), you can listen to the professionally recorded stories through the voice of the author, Linda Lacour Hobar. With accompanying text in hand, you can read right along with the author as she breathes life into the stories. Without the text, you can relax and enjoy Linda's personable writing style. Younger Students can draw or color as they learn while Older Students can take notes for further discussion. With a background track of beautiful, inspiring music, you'll feel you are right there with the author traveling through time. (Tracks without music are now available too!) At co-op, in the car, over lunch, before bed, or as an integral part of your school day – there are endless ways for all ages to benefit from this listening library of world history. (These audio CDs contain narrated lessons only and do not include pretests, activities, quizzes, exercises or similar items found in the textbooks.)
Follow the Mystery of History on Facebook