Making Winter Cooking Easier
in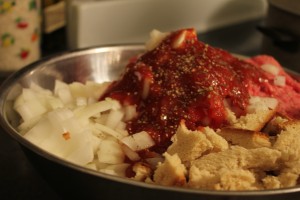 Mmmmmm… how nice to think of just waltzing over to the freezer and back to the oven to produce a lovely dinner in the midst of the holiday rush.
We were forced to learn freezer cooking. Melanie has always had train wreck pregnancies with  lots of bedrest time. We quickly figured out that we'd have to do some heavy duty preparation if we didn't want to live on fish sticks and frozen pizza! Freezer cooking to the rescue!
Cooking in bulk can be intimidating, though. Visions of counters full of freezer-burned mystery meals and pictures of a completely wrecked kitchen give us the collywobbles! Melanie does a workshop session on freezer cooking and it's always packed with families who want the payoff of easy dinners, but it's never worked well for them in the past. We always suggest starting with something easy.
One of the easiest ways to simplify meal times is to get a stock of pre-cooked meats in the freezer.  Next time chicken breasts go on sale, buy 20 pounds of them and a big bag of charcoal. Seriously. You can cook about 20 pounds on that bag of charcoal on a good-sized grill – and this is wonderful grilling weather!
Once you get home, Mom should divide the chicken into four or so big bowls or pots and put a different marinade in each one. We usually do Italian, Greek, Fajita, and Cajun. Meanwhile, Dad should get the charcoal started. Chicken marinades quickly, so it'll be ready by the time the coals are. Mom should take Dad one bowl at a time as he has room, and he should keep the flavors segregated on the grill. Bring out a fresh platter (or cookie sheet) for each flavor as it comes off the grill.
Once it's cooled a bit, put each breast in its own sandwich size Ziploc bag and all the little bags of each flavor in one gallon size Ziploc bag, labeled. Oh, and choose some to eat that night hot!
What then? Say you're craving chicken fajitas. Pull out the right number of breasts and nuke them in the microwave for about 1-2 minutes each *in the baggy* or in a tightly covered bowl. Making sure it's covered tightly lets the steam go through and through it and makes it taste hot off the grill. While it's cooking, sauté some onions and peppers, heat up some tortillas and refried beans, pull out some grated cheese, salsa and sour cream and you've got a wonderful meal of Grilled Chicken Fajitas in about 15 minutes flat.  You can use your chicken to make Gyros, Greek salads, Fajita salads, Chicken Tostadas, Grilled Chicken Sandwiches, Chicken Spaghetti, Chicken Fettuccine Alfredo, and lots more. Imagine how much time that will save you this winter! Just try it!
Enjoy!
Hal & Melanie Young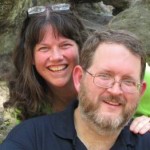 For lots more ideas for making freezer cooking easy, including our make-your-own Universal Marinade Recipe, grab our mp3 download, Sanity's in the Freezer.
First published in the October 24th issue of The Homeschool Minute, an electronic publication of The Old Schoolhouse Magazine.