Ultimate Homeschool Expo 2012 from Media Angels
in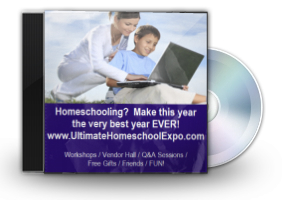 This Homeschool Convention never ends. You can access Media Angel's Ultimate Homeschool Expo Membership Site full of ebooks, audios, articles, and doorprizes from this expo.
only .59 per audio!
SAVE ORDERING HERE! (Regular Price: $99.95)
We have an amazing line-up of speakers! Felice Gerwitz, Meredith Curtis, Cindy Rushton, Cathy Duffy, Andrew Pudewa, Maggie Hogan, Tyler Hogan, Kim Kautzer, Mary Jo Tate, Carol Topp, Israel Wayne, Melanie Young, Hal Young, Christina Gerwitz Moss, Lorrie Flem, Rachel Carman, Davis Carman, Jeannie Fulbright, Heidi St. John, Trish Goyer, Judy Dudich, Jolanthe Erb, Jimmie Lanley, and many more!
Buy Today and IMMEDIATELY RECEIVE:
"Top 10 Mistakes Homeschool Mom's Make"
"Top Ten JOYS of Homeschooling" by Felice Gerwitz, your host and author at Media Angels
eBook 50+ Pages -Classic Homeschool Advice
eBook Student Planner
Homeschool Mother's Prayer bonus audio
LISTEN LIVE PLUS Get Access to ALL of the downloads of the ENTIRE Expo
Add Up The Savings! 80+ Audios @5 each= $400 Value
Mommy's Jammies Nights @ 5 each = $30
Coupon offers and discounts = $200+ Value
20 Keynote Sessions @ 10 each = $200 Value
TOTAL PACKAGE VALUE: $830+
Only $59.97!