Timberdoodle Drawing: Adventures of Tin Tin
in

Our kind friends at Timberdoodle have graciously donated a set of six Adventures of Tin Tin: Young Readers Edition books!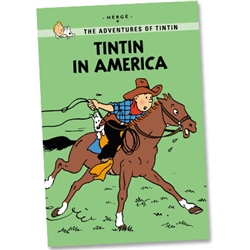 Timberdoodle says:
Tintin in America
(The Adventures of Tintin: Young Readers Edition)
Set in the 1930s, Tintin in America depicts the real-life problems of gangsterism during the Great Depression. Some references to social problems in the United States at that time are made; probably the most notable one is the sympathetic representation of Native Americans, contrasted with the depiction of the prejudicial and manipulative behavior of American oil companies which led to the mistreatment of Native Americans. Some other issues, such as lynching, are mentioned briefly. And even though the Wild West portrayal is a bit misplaced for the time period, your child will enjoy reading about the Wild West, complete with cowboys and Indians.
Enter using PunchTab or just by leaving a comment below.