School is Where the Home Is: 180 Devotions for Parents
in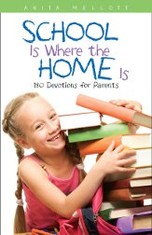 An estimated 2 million children are homeschooled in the United States. This is a devotional for those dedicated parents.The author,  Anita Mellot, is going to giveaway a copy of this soon-to-be-released new devotional book, School Is Where the Home Is: 180 Devotions for Parents
The publisher says: Mellott's 180 anecdotal devotionals explore specific homeschooling issues and present biblical truths to guide parents through challenging times. Themes include:
Homeschool Basics—fundamentals such as obedience to the call, prioritizing, decision-making
Homeschool and You—how homeschooling affects the primary educator (and vice versa)
Homeschool and Family—juggling parenting, marriage, education, and domestic life
Gifts We Give Our Children—intangible gifts, from a godly heritage to freedom to pursue their dreams
And A Child Will Lead them—discovering life and faith though our child's eyes
Spiritual Vitamins: inspiration for Christian life, addressing fear, faith, prayer, and more
Faith of Their Own—intentional discipleship that nurtures children in their own faith
School Is Where the Home Is presents a unique blend of the practical and inspirational for today's homeschooling parents.
Win a copy of this devotional book for Homeschool Parents from Anita Mellot! Enter the drawing by commenting below!
Congratulations to Sabrena Nussey! See below!