Freedom & Simplicity of Life Education through Discipleship Seminar!!
in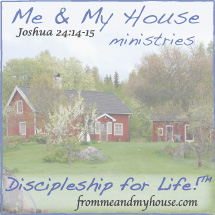 Lisa Hogden of Me and My House Ministries is giving away a Freedom & Simplicity of Lifestyle Education through Discipleship (Biblical home education) Seminar (downloadable OR LIVE, if you want to come to North Platte, NE on the 28th!)
Freedom and Simplicity™ of L.E.D. ~ The Seminar
will equip you to teach Discipleship for Life!™
How to educate from a Biblical Worldview
How to teach Biblical Principles in all of Life, and every "school subject"
How to teach multiple ages – without cloning yourself
How to disciple your children for God's purpose for their lives
How to use Real Books and Natural methods for Excellence
Hands-on application included
Make the Biblical excellence of the Principle Approach family friendly, and the Natural learning of Charlotte Mason methods Biblically grounded, arrange them into multi-level topical studies and you're off!
Just comment on this post to enter this contest!
And don't miss the Party Favor Lisa is offering, either!! Go here to get it free!
Congratulations to Jessica Stemmerding! See the comment below!