What's Better Than History? History and Geography Together!
in

Hang on for the freebie for everyone and give-away, too, at the bottom of the post to celebrate our nomination for Book of the Year…

You know what I hate? I have this huuuuge stack of books waiting for review on our site on my bedside table and an even bigger one on the bookshelf behind my chair in the den. What a really hate is finally, weeks or months after I'd hoped to, picking up that review book only to find out it is exactly what I needed way back when I should have reviewed it!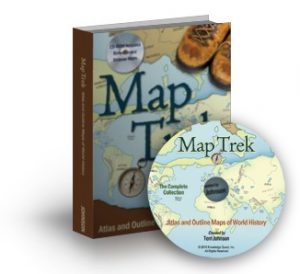 How I wish I had opened up Map Trek: The Complete Collection by Terri Johnson earlier this year! We are studying the ancient world in history this year and it would have been wonderful to start out the year with this great resource.
Here's the idea – it's an atlas of maps that match history! So, if you are studying ancient Egypt, here's a labeled map of their land. If you are studying the trading empire of the Phoenicians, here you can see just what it consisted of. Ancient China? It's here. So is the Empire of Charlemagne and the Crusades, and the French Revolution, and the Civil War. You get the idea. I am seriously madly in love with this book! We may have to give it a place on our bedside table with the dictionary, so we can refer to it in our reading at bedtime. What? You don't have a dictionary on your bedside table? Oh, you use your iTouch to look up unusual words, okay. But, then we'd need another copy for school, wouldn't we?
Not only does this terrific book have maps from Noah to now to help you understand history, but it comes with lesson plans to use those maps to teach the principles and facts of geography to your children. The brief lesson plans are just what you need to turn a "Let's look that up on the map" into an opportunity to learn some geography, too, but not enough to make you feel like you don't have time to do that. You can really do as little or much as you like.
Map Trek comes with a CD nicely attached inside the cover of the book, so even I didn't manage to lose it. We won't talk about the very expensive, wonderful curriculum we bought this year and promptly lost the CDs. We can lose anything. This CD contains not only the maps in the book, but outline maps your students can use to create their own maps! It also has modern world maps and a world geography study plan. Seriously, this something I wish we'd had decades ago in our family! I'm heading over to check on the price, but I'm sure it's gonna be worth it, after all, they probably aren't going to charge $500. Ah just a little over a tenth that! Well worth it. You might want to consider the hard copy with the CD instead of just the CD. It's a lovely, well-made hardback that you are going to want to casually pick up throughout your homeschooling years. It is also available in CD and even downloadable so you don't have to miss out on using it right away! Highly recommended.
Map Trek: The Complete Collection Atlas and Outline Maps of World History, created by Terri Johnson, Bramley Books, a Division of Knowledge Quest, 2010, 288 pages, $55 in hardback, even less in CD or downloadable. Buy it now by clicking here!
A Freebie AND a Give-Away
And now we have a great opportunity to clear up some confusion! Did you know that there are TWO great homeschool vendors with similar names??? That's right! Today's review was brought to you by Knowledge Quest — and today's freebie and giveaway are brought to you by TruthQuest History! I suggest you check them both out – lots of people use them together!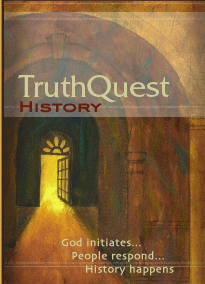 I just love what they say on their site:
TruthQuest History is a deep and rich literature-based history study…but with a difference. You will not learn the story of mankind; you will learn the lovestory of mankind. You will not focus on the rise and fall of human civilizations; you will focus on the arrow-straight line of God's unchanging existence, power, love, truth, and plan for civilization. You will not simply 'meet the culture' or 'get the facts;' you will probe the truths of history so deeply that your students will be equipped to change their world!
Don't you just love that? That's just the way we think — I need to review something of theirs soon! Michelle Miller of TruthQuest History has been so generous with us! She is offering every single one of you a free download of her workshop: Hot Rods and Hope Chests: Boys and Girls and History. Click on the link, then when you get to the page, right click on the title of the workshop and select "Save Target As" or just click on the link to listen now.

Stay tuned, though! Because one of you can also win a $20 Gift Certificate toward a TruthQuest History Guide of your choice!

Here's how to enter:

First, go cast your ballot for the Christian Small Publishers Book of the Year. Click here, then scroll down to NONFICTION – RELATIONSHIPS / FAMILY, where we sure hope you will vote for Raising Real Men! Be sure to hit the "Submit Votes" button at the bottom! If you've already voted, keep reading…

Then, comment here and let us know you did – that's all!  Want more entries? Post a link to this post on your Facebook page, Twitter, blog, or email loop and come back here and comment that you did. You can get an entry for each time you share!

Hey! If you have sons that are 9-12 years old, check out our new Boot Camp 9-12! And thanks for voting!

We received a free copy of this curriculum in return for our always honest review.