King Alfred's English a Fascinating Read!
in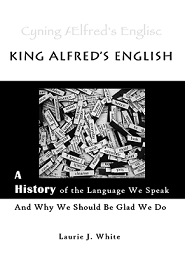 When I first  heard about King Alfred's English by Laurie White, I was immediately interesting. King Alfred is one of our family's favorite characters. He was a real Christian, an amazingly wise and far-seeing ruler and a refreshingly human personality. We love words, too, so it was a natural for us to review!

This is a fascinating, very readable account of the history of the English language. If that sounds dry, then you don't know the history of Britain! Romans and Saxons, fighting furies, kidnapping and monks – it reads like a novel!

Laurie White has a very engaging style that draws you right in. She is also a believer, which is important because the history of the English language is inextricably linked to the history of Christianity, from the early Christian missionaries (including Joseph of Arimethea!) through Wycliffe to the present. Laurie handled all of this very well, obviously not only knowing the history, but understanding it.

King Alfred's English  is supposed to be aimed at 7-12 graders, but I think some younger children and lots and lots of adults are going to enjoy this volume. I think this would be an excellent addition to any history or English curriculum. And it might make your children lovers of language, too. I love it when something is good for you and great fun, too. And if you have to add something to make it even more educational, there are some great resources on the publisher's website.

Nominated for Book of the Year! King Alfred's English, like Raising Real Men has been nominated for the Christian Small Publishers Association Book of the Year (don't worry, it's in a different category!). Go vote for them, too!

King Alfred's English, Laurie J. White, The Shorter Word Press, 2009, 150 pages.  

A Give-Away!

I have a *signed* copy of King Alfred's English to give-away! How do you enter?

First, if you haven't already, go cast your ballot for the Christian Small Publishers Book of the Year. Click here, then scroll down to NONFICTION – RELATIONSHIPS / FAMILY, where we sure hope you will vote for Raising Real Men – and King Alfred's English, too! Be sure to hit the "Submit Votes" button at the bottom! If you've already voted, keep reading…

Then, comment here and let us know you did – that's all!  Want more entries? Post a link to this post on your Facebook page, Twitter, blog, or email loop and come back here and comment that you did. You can get an entry for each time you share!

Don't forget to go back and enter the contests earlier this week, if you haven't already: Henty AudioBooks, TruthQuest Gift Certificate, and Geology Detective Mineral Indentification Kit!

Hey! If you have sons that are 9-12 years old, check out our new Boot Camp 9-12! And thanks for voting!

We received a free copy of this curriculum in return for our always honest review.