Toward a More Godly, Family-Building New Year's
in

As a young adult, I had very mixed feelings about New Year's celebrations. There didn't seem to be much redeeming value in the wild celebration of the end of the year and then a grim, ascetic commitment to New Year's resolutions that never seemed to last long. As is our family's wont, though, we started putting our heads together to think how we could best use this free time to glorify God and build up our family.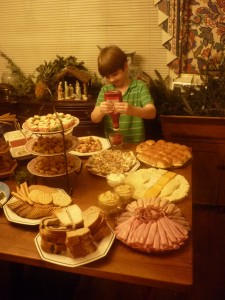 Over several years, we've built a tradition that has really blessed us! On New Year's Eve, we spread out the Christmas treats and party food, the egg nog and Christmas tea (sign up for the newsletter and get our Christmas ebook with this amazing recipe), and have a family meeting.  This is our time to discuss all the things the Lord has done in our lives in the past year. It is so incredible to remember the answers to prayer, the difficult times that have passed, the accomplishments in the family, everything. Hal makes this easy for us by keeping a journal and he comes to the gathering with a huge list of what has happened over the past year, but we've done it, too, when everyone just had to remember.
Time lends perspective.  It is so much easier to detect the hand of God in our lives after a few months have passed. "Can you see why the Lord allowed us to be towed again and again in our van?" "Yes, Daddy! He was planning a new van for us and it was going to be a testimony!" We end up the evening by praying and thanking the Lord for all He has done and given us and asking for wisdom for the new year. I can hardly wait for this year's remembrance time because the Lord has done so very, very much for us in 2010!
On New Year's Day, we have a big meal that in the South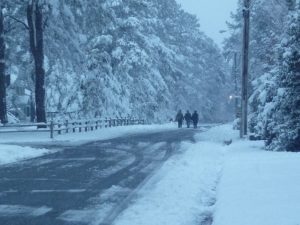 has to include collards and black-eyed peas for absolutely ridiculous reasons, but we do so enjoy them. Afterward, we have a family brainstorming session. We talk about all our plans for the next year and bat about ideas to do things better, smarter and in a more Christ-like way. This has been tremendously fruitful and productive, especially as we have more and more young adults in the family! They love being welcomed to brainstorm business and family ideas!
Now, if you have Melanie's personality type, you have to keep reminding yourself not to jump in and say, "That won't work because of blank and blank and blank." Don't do it! Brainstorming is a time when all ideas are welcome, from the brilliant to the barmy — and with a little prodding to flesh things out – "Well, how would that work in this situation?", you mind find that some of those that seem barmy are really brilliant!
We finish up asking the Lord for His blessing on our year, our family, our business and ministry. Recent years have sure shown us the benefit of starting off the new year in a purposeful, joyous way!
But what if you're committed someplace else?
Already scheduled for the church party on New Year's Eve or Grandma's on New Year's Day?  Sometimes it happens.  Occasionally we've combined the two parts of our tradition or scheduled it for a different time of day. The day and the hour are not the important thing. What's been such a blessing to us is to really take time and remember the acts of God in our lives, then launch the new year unified in our family mission, with all members excited about fulfilling their part in it.