News from the Brethren in Mexico
in

I hate that we are so far behind in posting these updates for the Richardsons in Mexico. We've been away at Hal's family's lake camp and in contrast to previous years, the internet service was so wretched we were not able to do nearly what we needed to online. Please be in prayer for our brethren in Mexico!

From: "Mike Richardson"

Date: Sun, 11 Jul 2010 21:59:30 -0500

God is good, all the time.
All the time God is good.

This morning we had church at a house in San Juan. Only the people from
close by were able to attend. There were perhaps ten of us, including two
unbelieving married daughters of Don Chuy and Elvira.

We had a sweet time of fellowship. Everyone shared their stories and then we
sang, prayed and studied Hebrews 12 — looking to Jesus the Author and
Finisher of our faith. The words of the author of Hebrews spoke volumes to
our hearts. Veronica was very attentive during the service. I sat down
beside her after church and we talked for about 10 minutes. She told me that
she was thinking about asking the Lord to forgive her but that she didn't
know how to pray. We talked about prayer. Then she prayed a simple but
heartfelt prayer through a flood of tears.

Praise be to God. He has already brought good out of this bad event — for
you see she would not have been at church if it had been in the normal place!
This one event makes all the extra worth well worthwhile. Thank you for
praying. Your prayers, I believe, helped to open her heart to the Gospel.

After church Isaac and I went to the last four houses to document the
damage. We had a total of 13 houses damaged. Three were damaged
significantly. Five had a moderate amount of damage and five were slightly
damaged.

Clestino lives way up the mountain. Isaac and I rode as far as we could on
the three-wheeler and then walked the rest of the way. When we arrived I
opened my backpack to get out the camera. It was not there, I had left it at
the house! I went ahead and reviewed everything with them and then we
returned for the camera. On the way down everything looked the same. I asked
Isaac if we were lost. He said, "no we just don't know where are right now!"

We finally found ourselves and went on down the mountain! Isaac, very
kindly, made the return trip to take pictures by himself.

I have just finished writing up the damage reports on the houses. I will
make a trip into town tomorrow to turn those into the presidencia.

Thanks for your prayers as well as your emails. They are very encouraging to
us.

Mike

From: "Mike Richardson"
Subject: More info on Mexico
Date: Tue, 13 Jul 2010 21:42:32 -0500

This morning Timothy (10) and I made a trip through the valley and met with
some officials in San Juan. One fellow, whom I had not met before, asked me
if I was Mike. When I said yes he said that he was the governor's
representative. Then he went on to tell me that he was leaving to review the
damages in some other places and would be back here the first of next week.
He asked if I would take him on a tour of the valley. I still don't know
what his actual job is but I am glad that that more people are aware of the
situation.

Then I stopped and met with the engineer in charge of repairing our road.
He now has a team of eight people working on the road. Although they are
making slow progress he confirmed that they were planning to stay until the
roadwork was complete.

We had made an agreement for me to take him on a tour this afternoon.  Since
I had a few hours I thought I would come home and rest.

God has been doing some very interesting things in my heart these days.
Prior to the hurricane I was developing the routine of trying to pray an
hour a day. The devastation and the recovery work broke that routine.

Instead of resting I went outside to pray. I was literally overwhelmed with
emotion. I cry out to the Lord –not about the physical conditions here but
about the spiritual condition of the people. Four hundred and fifty people
live in San Juan and less than one hundred live in the valley. Of those we
have thirty to thirty-five at church most weeks. While that is over 5% of
the population, it is not enough. I believe that God has brought this
situation at this time to do his work in the hearts of the people.

As I lay before the Lord I begin to cry and ask him, "Would you give me 100
people? Would you bring 100 into the kingdom from here?" Then I thought, "If
God can bring 100 into the kingdom, why not ask for 150?" God tells us in
Ephesians 3:20 Now unto him that is able to do exceeding abundantly above
all that we ask or think, according to the power that worketh in us.

I have lived and worked in this valley for ten years. Even thinking about
reaching 100 or 150 people for the Lord out of 650 seems absolutely
ridiculous. That just couldn't happen. But I know my God. It could happen
because he is a powerful God. I am asking him to start a revival among my
people that is inconceivable — even to me.

I have been formulating some thoughts and ideas in my mind. I will share them
another day. In the meantime please pray for my people.

After I finished praying I ate and then left to meet the engineer.

We rode through the upper end of the valley. When we arrived at the
beginning of the worst part he said that he had seen enough for the
day and returned to San Juan.

Then I went to a family's house that has a baby. While I had taken them food
several times I had forgotten about the baby. Sure enough they needed
diapers. I put that on my list of things to do tomorrow.

In the evening I came home I took my shirt off and lay down on the bed. I
was thinking about taking a shower but really didn't even want to get up to
do that. Pam was sitting in a chair close by; we were chatting while I was
half asleep and half awake. After a few minutes my dear sweet wife asked me,
"When was the last time you went to Dona Amelia and Poncho's house? I had
gone on Friday and sent Isaac on Saturday.

A few minutes later I rolled out of bed, put my shirt on, and told Pam, "I
am going to see Poncho and Amelia. I will be back in a little while."

In Christ,

Mike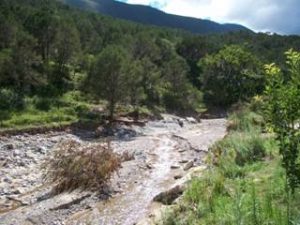 From: "Mike Richardson"
Subject: A little more progress
Date: Mon, 12 Jul 2010 20:26:07 -0500
Monday
Today when I went through San Juan I was told that two drivers came instead
of the promised three. Then one of the tractors broke down so the driver
went to town to get a part instead of sending someone else and using the
other machine. Needless to say I was more than slightly discouraged.
Then I went to town and took my reports on the housing damage to the
appropriate people. They told me that tomorrow I would have an answer about
"when they can give us an answer". It looks like the government will help
SOME people. While we don't know for sure it looks like those who receive
help will be given some of the materials that are needed to make repairs.
They will be responsible for the rest of the materials and the labor cost.
When I returned to San Juan there were three tractors working. That's right
three — count them one, two, three. Needless to say the sight of them all
working lifted my spirits. The engineer who is responsible for the canyon
was there too. After talking for a while I found out that he was a believer.
He told me that they will work Monday through Friday on the valley until it
is done. HE estimated two more weeks to get to our house. He could not give
me an estimate on the rest of the valley since he had not been to the other
end. I offered to take him the entire way tomorrow. I am not sure if he will
take me up on it or not.
He also gave me some sad news. I have been told that this work crew would
do the entire valley even though the last 1/3 is another state. He told me
that they would just go to the state line and that Nuevo Leon would need to
do the rest.
The reason that is sad is because Monterrey was damaged severely. It is the
largest city in northern Mexico. Since Nuevo Leon is trying to restore
services to the greatest number of people they are concentrating on the big
cities. So it could end up being a very long time to actually get the entire
canyon open.
I was unable to pick up and deliver food today. I plan to make every effort
to get that done tomorrow.
Thank you for your prayers.
Mike
From: "Mike Richardson"
Subject: A lesson Learned (I Hope)
Date: Wed, 14 Jul 2010 20:43:28 -0500
Wednesday
On dirt roads in Mexico the government has a 6 meter (20 feet) right of way
on each side of the center of the road.
There is one washed out area were the engineer decided to move the road over
about nine feet. His thought was that it would be a more secure road and
less likely to wash out again. So they begin digging away at the embankment
on the side of the road. The owner of the property, Kiko, was right there
watching. After they had dug about three feet of the embankment the owner
announced that they couldn't dig anymore. The tractor driver talked to him
and then the engineer talked to him to no avail. I asked the engineer if he
would like to talk to him together. He looked at me and said, "you can try."
So as Timothy and I walked over to him we said a quick prayer together.
"Lord, give us favor in Kiko's eyes."
We chatted for a few minutes and then our conversation turned to the road. I
asked him if he would mind if I showed him what they wanted to do to the
road. We walked over and I showed him how they would cut down the side and
give us a nice "land bridge" to cross with tubs and then even put concrete
on top to prevent future erosion. After thinking about it for a few minutes
he looked at me and said, "Go ahead and do it."
He had just needed someone to calmly explain the situation to him and give
him time to process it. I patted him on the shoulder, looked him in the eye,
and told him he was a good man and we all appreciated his help.
The tractor returned to work.
After using my words to calm this situation, the Lord reminded me of some
harsh words that I had spoken to a neighbor the day before. Not out of anger
but out of frustration and being tired. I knew what I had to do.
This afternoon while Joshua (11), Timothy (10), Benjamin (8), and I were
delivering food I went to Javier and told him that I was very sorry for my
harsh words and that there was no excuse for me speaking that way. Then I
looked him in the eye and said, "Would you forgive me?"
He quickly said that he would and then looking at the mound of food that I
had on the back of the three-wheeler he asked, "Would you like for me to
help you deliver that food?" With that he took the food to the nine families
at the far end of the canyon and I came home and took an early shower while
Isaac delivered the last packages to Baratillo.
God has, once again, taught me an important lesson about the tongue. My
prayer for today is that God would use my tongue for good and not for
evil — to bless and not to curse — to be a giver of life.
In Christ,
Mike
From: "Mike Richardson"
Subject: Richardson
Date: Fri, 16 Jul 2010 20:20:32 -0500
Friday
Isaac and I traveled through the entire canyon as well as the next one over
this morning. The repair work in our valley is substantially higher quality
than the work being done in the Los Lirios valley.
I met with the engineer today. They have decided to put down a 3-4″ cap of
sand/gravel mixture on the part of the road that they are repairing. While
they are advancing slowly, they are doing a very good job. I am grateful for
that. I had Anna make zucchini bread and took it to the worker as an
expression of our gratitude.
I have the final Board meeting before our conference tomorrow. We will have
church in San Juan on Sunday. Then on Sunday afternoon and Monday I will
travel to the border and back to pick up supplies for the conference. Unless
something unexpected happens I will not send another update until either
Monday or Tuesday.
Thank you for your continued thoughts and prayers.
Mike
From: "Mike Richardson"
Subject: Mexico update
Date: Sat, 24 Jul 2010 18:38:10 -0500
Saturday
We made a quick run through the valley today. The workers are doing a fine
job of repair and improving our road but the work is slow. There are still a
lot of very damaged areas left to repair. We are estimating that it will be
a week before they get to our house. The company doing the repair work on
the roads is a private contractor. We are currently negotiating with them to
repair the entrance to our property. Since they are here and doing a good
job on the road, I thought they would be the best option to repair our
damage too.
Back in the olden days when I was a CFO for a manufacturing company we
implemented a JIT (just in time) inventory system. It allowed us to reduce
our overhead and produce at very efficient rates. I feel like I am doing a
similar type thing with our conference equipment. If all goes well, we
should be able to get our equipment out of the offices here in the mountains
just in time for the conference.
The tractors have advanced far enough that I can now get my truck out. It
will be very useful in moving around the area.
We will be having church in San Juan again tomorrow. We are hoping that by
next week we will have safe access to our church building.
In addition to our conference preparations we have now set up twitter
accounts for both ministries. You can join them by following VNMinistres and
ElHogarEducador on your twitter account.
On a more personal side, Benjamin (8) was cutting some cardboard with a
knife. The knife slipped and sliced his eyelid open — from the eyelashes up
and over about half of his eye. He was very fortunate that the eyeball was
not damaged. We took him to one hospital and two doctors before we were able
to get the damage repaired. He has now learned, the hard way, why you should
always cut away from your body and not toward it.
Mike