Whatever My Lot, Thou Hast Taught Me to Say…
in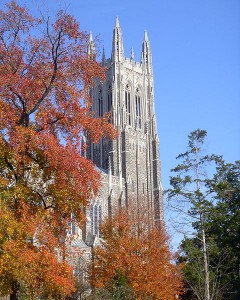 Dear Friends and Family,
Hal and I spent the day at Duke today consulting with the oncologist and thoracic surgeon. There is a very large tumor behind Hal's breastbone. It is providential that it is in this site because if it were *anywhere* else, he could not have had a tumor this large and not known it, so we know it was meant to be that we are in this situation. We are thanking God for pneumonia! There is no way we could have known without it. We must trust God that He has a purpose in this situation. We are back to Duke on Monday for a PET scan then Hal will have a surgical biopsy on Tuesday. Because of the location of the tumor, it is going to be difficult to get to. We should have answers the week after Christmas. Please pray that Hal will be diagnosed quickly, that the cancer will not have spread, that it is treatable and that treatment may begin quickly.
As for the rest of the family, it's pretty tough there, too. When I write all this stuff down, it seems funny it's so bad 🙂 Our tonsillectomy patients are pretty miserable and are having a difficult time drinking enough to stay hydrated. My mother said David was crying during the night last night and Susannah was very unhappy this morning.  Miserable just doesn't do it justice for Caleb. His face and neck are swollen and painful. He is on very strong narcotics and is still in so much pain he struggles to swallow a spoonful of milkshake. Please pray for him. I am feeling very torn – everybody needs me and I
can't be everywhere.
Everyone else is now sick, including Matthew and me. I keep hoping each day will mean improvement, but it hasn't so far. The sick ones alternate feeling okay with chills, fever, sore throat and coughing jags.
Hal's mother has been here since Friday and she will be going home tomorrow, to return next week, we hope. She and my mother have been a blessed help in all of this.
There is good news, though! John Calvin is returning home tonight and is only a couple of hours away. We long to be together with him and are just praying he stays well – I'll need for someone to care for Katie at the hospital next week!
We are also seeing some amazing things happening in our ministry. A Christian bookstore in Singapore asked us about a month ago to ship them a case (52) of our book. We were worried that she'd have them forever, but last week she wrote she'd sold 40 in the 3 days after she reviewed it on her blog and then the rest shortly thereafter. She asked me to ship her 30 more. I heard tonight that she's already sold 25 of them and they haven't even left the states yet! How amazing that God is using our words on the other side of the world!
Finally, it is a tremendous blessing how the people of God have rallied around us. We have received many wonderful meals, paper products, snacks, groceries, and more. The words of prayer and encouragement you have spoken on the phone, in email, on Facebook and Twitter and in person have been balm to our souls and I don't know how we would have made it through the last few days without them. Thank you so much, dear ones.
What is the best way to hear what's going on? We'll be posting short updates on Facebook and Twitter. We'll be writing about how this affects the boys as well as our philosophical musings and stories here at our Raising Real Men blog. We have also put together a Carepage for those who want to be sure to keep up with what's going on with Hal. Click here for Hal's Carepage. You need to click "Become a Member" and establish a password for yourself, but they will not spam you. They will send you a notice when we post an update and that is a blessing to us when we need to get a prayer request out urgently.
Your love and the love of God sustains us,
Melanie
When peace, like a river, attendeth my way,
When sorrows like sea billows roll;
Whatever my lot, Thou has taught me to say,
It is well, it is well, with my soul.

Refrain

It is well, with my soul,
It is well, with my soul,
It is well, it is well, with my soul.

Though Satan should buffet, though trials should come,
Let this blest assurance control,
That Christ has regarded my helpless estate,
And hath shed His own blood for my soul.

Refrain

My sin, oh, the bliss of this glorious thought!
My sin, not in part but the whole,
Is nailed to the cross, and I bear it no more,
Praise the Lord, praise the Lord, O my soul!

Refrain

For me, be it Christ, be it Christ hence to live:
If Jordan above me shall roll,
No pang shall be mine, for in death as in life
Thou wilt whisper Thy peace to my soul.

Refrain

But, Lord, 'tis for Thee, for Thy coming we wait,
The sky, not the grave, is our goal;
Oh trump of the angel! Oh voice of the Lord!
Blessèd hope, blessèd rest of my soul!

Refrain

And Lord, haste the day when my faith shall be sight,
The clouds be rolled back as a scroll;
The trump shall resound, and the Lord shall descend,
Even so, it is well with my soul.

Refrain
—
Hal and Melanie Young
Raising Real Men: Surviving, Teaching and Appreciating Boys
http://raisingrealmen.com Read a Chapter!
http://facebook.com/raisingrealmen
http://twitter.com/raisingrealmen