Buy The Book of the Year!
"This is a book that every family should have…"
– J. Michael Smith, Esq, President, HSLDA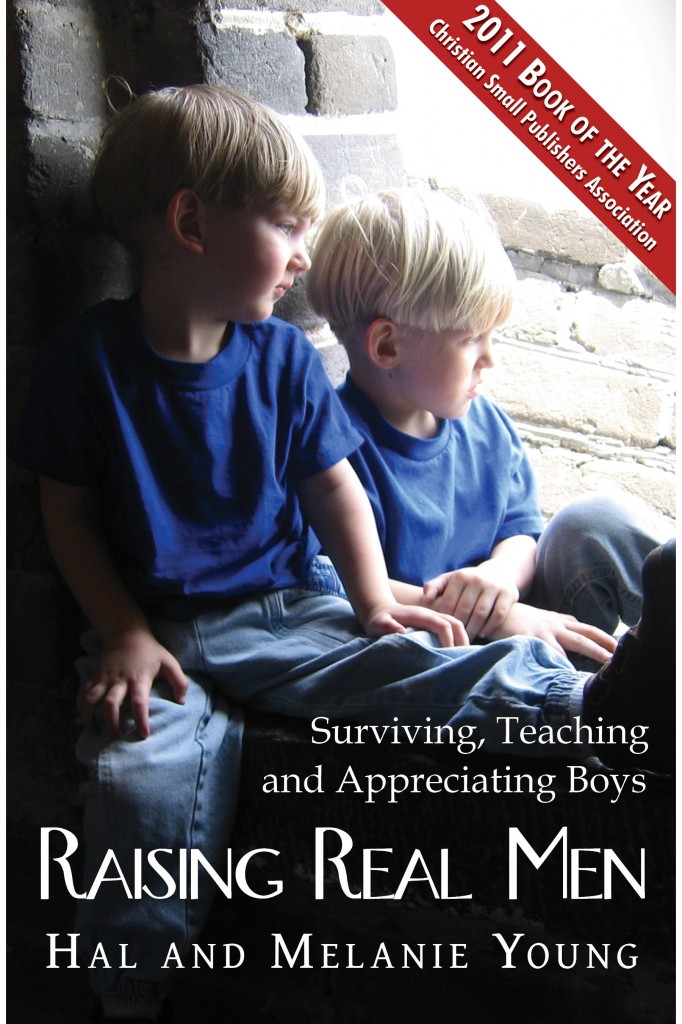 A Practical Guide to Equipping the Hearts and Minds of Boys without Losing or Breaking Your Own
If this is God's chosen gift to us, then why does it seem so hard? How can we prepare these boys to serve God when we can barely make it through the day? Isn't there a better way?
The answer is yes.
"Just what the doctor ordered…" – Parenting columnist John Rosemond, author of Parenting by the Book
"Raising Real Men is long overdue… this book is a breath of fresh air." – Dr. Tedd Tripp, Author, Shepherding a Child's Heart
Christian Small Publishers Association 2011 Book of the Year
Read more endorsements or read one of the dozens of reviews here.
What is it about boys and competing about everything? Click to read the sample chapter, Racing to Win, and find out how to use that to motivate him!  See the Table of Contents, too.
Bonuses
Special bonuses only available on this site:
A free .PDF download of our Raising Real Men Study Guide — free with every book purchase in any format.
Free Media Mail Shipping! Delivery dates are not guaranteed unless you choose Priority Mail Shipping Below.

Buying Options
Book + pdf Study Guide $15   eBook Download $10
CD AudioBook + pdf Study Guide $25  mp3 Download $20
Dad wants the AudioBook to listen while commuting & Mom wants the hard copy? Save by getting the Mom & Dad Special $35    Downloadable Version $25 (includes Study Guide)
Can't wait for the real book? Add the eBook  to a physical book order for only $5!
Want to Spread the Word?

Friends need help with their boys? Buy extra books and bonuses sent to the same address as your first book for $12.50
Or, spread the word through your church or community! Buy ten copies for only $100. That's $10 each!
Buy Raising Real Men now!
All purchase options 

ship free

within the U.S. and APO/FPO addresses. If you would like to get a printed copy of the book shipped outside the continental U.S., please click here to add your international shipping charge. We are delighted to ship overseas, but if you place an order outside the U.S., it will not ship until the international shipping charge is received. An eBook-only package will incur no shipping in or outside the U.S.
Worried about getting it there on time? For domestic orders, choose expedited shipping and it will leave our warehouse within one business day and ship either Priority Mail or FedEx.
Bulk Purchasing
Great Waters Press offers a discount on bulk purchases–if you would like to purchase 10 or more copies, order them here.
Please choose your shipping method below. I apologize for the clunkiness, but our new site is just not ready yet.