Mother's Day: Disappointment or Happiness?
in

It happens too often. A friend posts about how disappointed she is in how her family celebrated her birthday or Mother's Day. She's hurt or angry and she's sure no one really cares about her.

Is that true, though? You know it isn't. I used to feel the same way and I couldn't ask for a better husband and children! I learned to change a few things and now I look forward to those days! Here's what I learned:

Tell them what you want and how to do it. I think we resist doing that because we think if they really cared, they'd just know. Listen. Husbands are not Vulcans. Kids are not Vulcans. They can not read your mind. They don't even catch your hints. Be explicit, in a kind way, "Honey, you know what I'd love for us to do on Mother's Day? …. Can we do that?"

Manage your expectations. If they were as good as you at understanding people's needs and nurturing them, they wouldn't be kids or a husband. Instead, decide to see their love and not how they fall short.

It is to your glory to overlook an offense. (Proverbs 19:11) Or, just a mistake! Maybe your husband didn't plan ahead enough or your kids get into a fight over your special meal. You can get mad or you can get over it. Your family is full of sinners. So is mine. For that matter, I'm a sinner and so are you. We need to give them the grace we need ourselves. Even if they do it again and again. Remember, "Love bears all things, believes all things, hopes all things, endures all things."

Figure out your love language and tell them what it is. What makes you feel loved? Acts of service, loving touch, gifts, words of affirmation, or just spending time together are ways we show and perceive love. It's okay to say, "I love it when you hug me," or "Thank you for saying that, it means so much when you tell me you love me."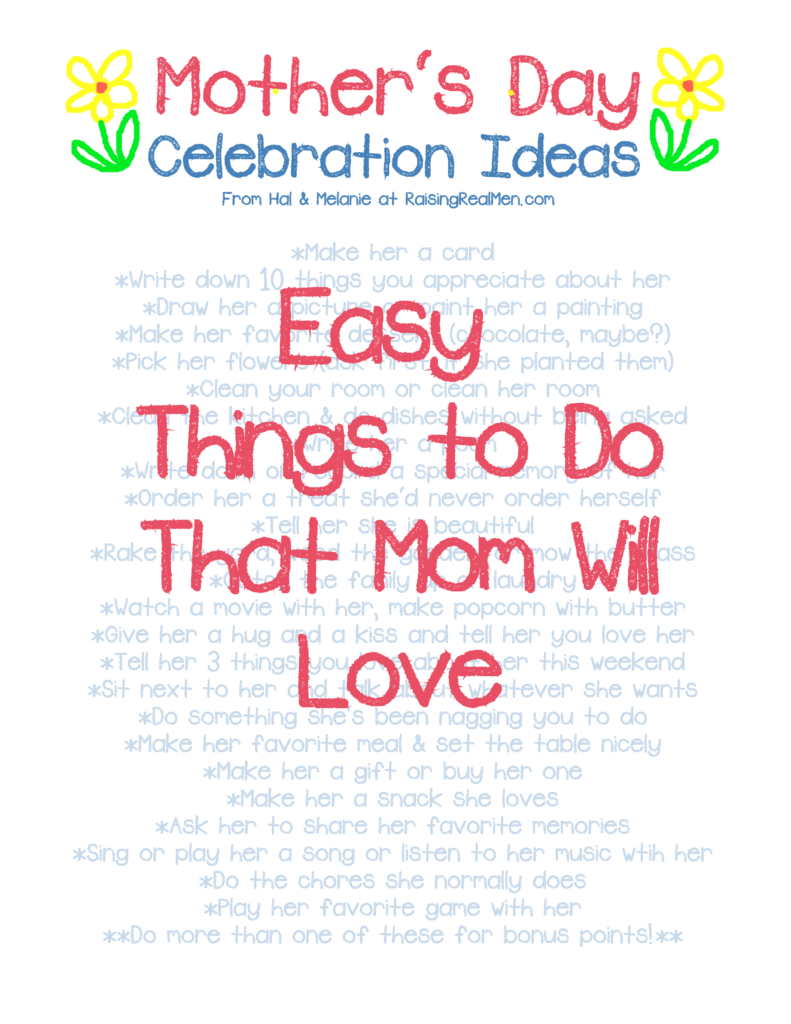 "Hear" what they are saying in their love languages. Sometimes our loved ones show love in a way that isn't easy for us to hear. The child who is climbing all over you may be showing love through touch in their immature way. The husband who spends more than you can afford on a gift may be trying to show you his enormous love through gift-giving. Try to learn the ways they are showing love and feel loved when they do those things!
Did you know you can decide to be happy?
For a long time, I thought the problem was my family. I found out the problem was me. My bad attitude had made my family feel awful, like they couldn't measure up, like they were doomed. Everyone got irritable and it snowballed into disaster. I dreaded holidays that honored me.
When I started doing these things, though, celebrations become joyful. When I was happy, my husband and kids were happy! And the happiness snowballed just as quickly as the disappointment. We started having a wonderful time together.
That is REALLY IMPORTANT when your kids leave home. It's so easy for them to come up with an excuse not to come home. How much better when they wouldn't miss it for the world!
Listen, Mamas, decide to be happy! Decide to accept whatever your family does or doesn't do through the eyes of love. You'll be glad you did — this weekend and in the future.
And here's some help in telling them what they can do, even when there is not much money or time, to bless you on Mother's Day. Join our email community of tens of thousands of families to download this great printable!
25 Easy Ideas to Celebrate!
Your friend,
Melanie