I Haven't Kept All My Resolutions Either
in
So February comes trudging in sooner than we expected.
You history buffs may already know that the ancient Roman calendar started in March, not January – so February was the end of the year to them. The name comes from februum for "purification" because this is when they traditionally got rid of the old year's traces and prepared for the new. (Never mind how they did it, being pagan and all.)
While a lot of people make new starts for the New Year, by the first turn of the calendar probably half of us are struggling or defeated. Sheer "resolve" and best intentions don't last long for most of us. I had eight on my list this year; last I checked, I was okay with four of them, two were … so-so, and two were flat-lined. No progress at all.
So what do you do when your New Year's resolution has died?
Recognize we all fall short of the glory of God (Romans 3:23) – even when we haven't sinned. We won't ever reach perfection on this side of heaven. When we stumble in a good intention, whether to read the Bible with our kids, to get out and walk more, or to quit [insert bad habit here], well … it shouldn't be a surprise to us. If it's not a matter of sin, then don't beat yourself up if you fall short.  Here's a great article about keeping the right attitude (hint: humility and faith) about our resolutions.
Start over. Begin again. Continue beginning again as needed. I remember a senior pastor who had trained hundreds of young preachers in his career, admitting to a classroom full of his students that the most difficult thing he faced as a Christian, every single day, was simply to read the Word and pray. Maintaining personal devotions was a struggle for him!
If you miss a day on your Bible reading plan, do you let it drop and say, "Poor rotten me. I meant well but it's all over now. No point in it"? If you miss a week? If you got totally overwhelmed and only remembered when a month had slipped past? No, you pick it up and start where you left off.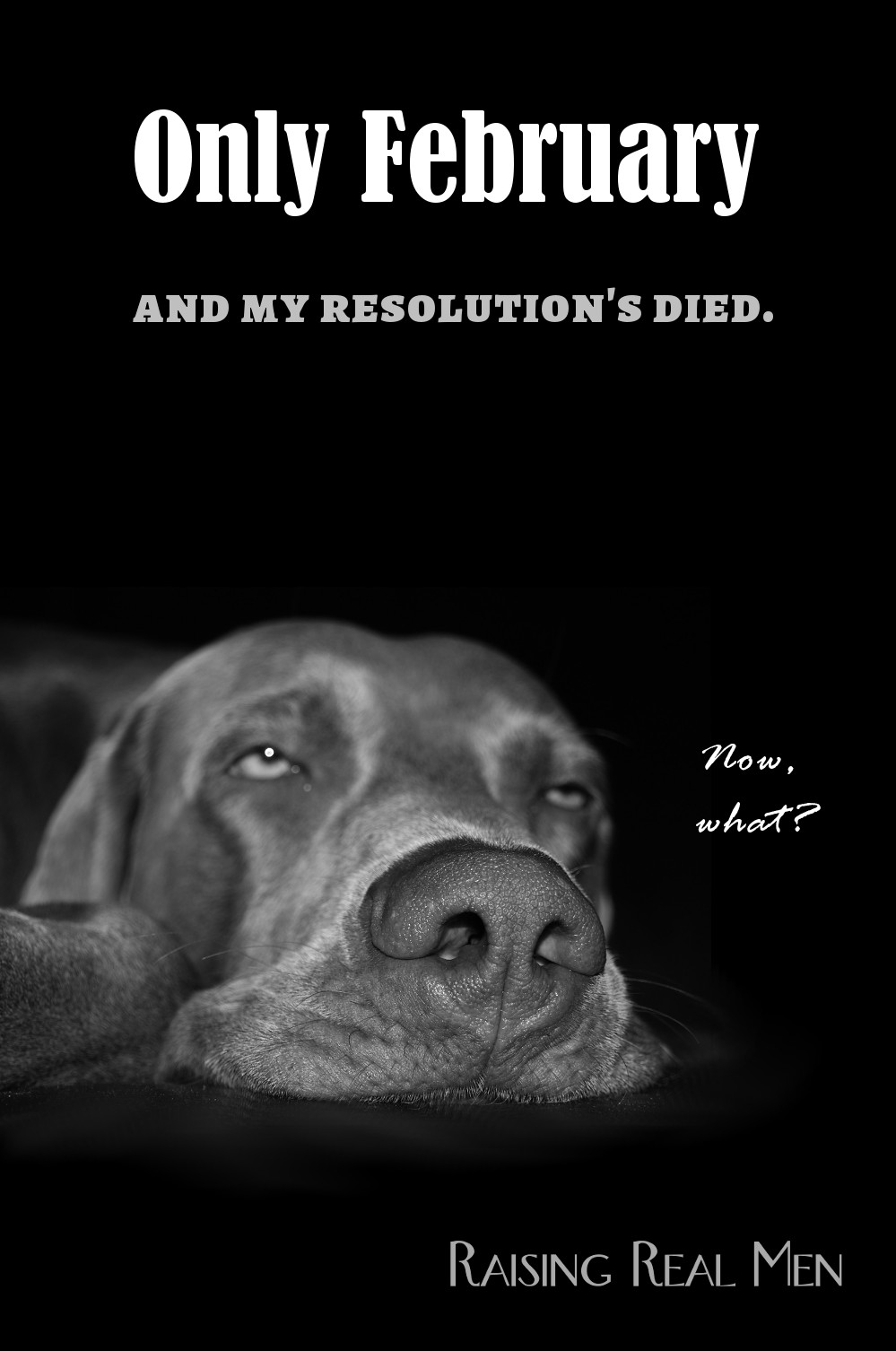 I say again, Start over. Begin again. Continue beginning again as needed.
Peter asked Jesus what to do about a brother who sinned against him but asked forgiveness – again and again. "Do I forgive him up to seven times?" Peter asked. Jesus said, "Seventy times seven." (Matthew 12:21-22)
That speaks of our attitude of forgiveness toward others, but there's something else in the background – some things, for some people, are likely to be an ongoing struggle with lots of setbacks. If we're called to give grace to a brother who disappoints or hurts us, shouldn't we give grace to ourselves when we disappoint ourselves?
Again, I'm not talking about sin. That's against God. Go to war with sin and don't negotiate peace with it.
But when it's simply our own goals, like going to the gym every day, or losing 15 pounds this month, or watching less Netflix … don't trample your soul in the dust over good intentions that didn't quite gel. Remember your plan, correct your course, and move forward from here!
One of the things I say or think – often – is the simple rule of the golf course: You've got to play the ball where it lies. It's good to look back and note where you made the mistake, where there's an opportunity for improvement (or a need for repentance) … but you can't change the past, and often you can only choose whether to fix the blame or fix the problem. And you need to fix the problem to make progress!
Make yourself a New Year every month. I saw a business book that suggested working in short cycles – as if every business quarter was a fresh start on the year. That may or may not make sense for each person's case, but why not say to yourself, "Hello, new month! Did I made any progress on last month's goals? Okay. Recalculate. Where do I go from here?"
Paul spoke of the believer's continuing journey to become more and more like Christ. He admitted (the apostle! who had spoken with Jesus in person!) that he hadn't arrived yet:
"Not that I have already attained, or am already perfected; but I press on, that I may lay hold of that for which Christ Jesus has also laid hold of me. Brethren, I do not count myself to have apprehended; but one thing I do,  forgetting those things which are behind and reaching forward to those things which are ahead, I press toward the goal for the prize of the upward call of God in Christ Jesus." (Philippians 3:12-14)
We are a work in progress. In many respects we aren't the same person from one year to the next – we continue to grow, our experience lengthens, our situation changes. Rather than thinking, "If only I can achieve Goal X this year, then I will be satisfied and complete," let's think of that journey we're on – pressing forward, letting things in the rear view mirror stay back there, and continuing on for a closer walk with Christ in the days and weeks and years ahead.