The Well-Read List
in

One of our sons has severe dyslexia and didn't read well until he was eleven. Once he got to high school, he realized he'd missed reading a lot of the books his brothers had read. He asked his adult brothers to make a list of the books they thought someone ought to read to be truly well-read. This is that list. They told him something like this:

You don't have to read all of these or even read them all the way through, but if you at least have a passing acquaintance with these books, it will make your life richer, help you understand more of what's going on around you, and enable you to interact with almost anyone.

Note: Some of the links below are affiliate links which give us a small commission and do not cost you anything extra.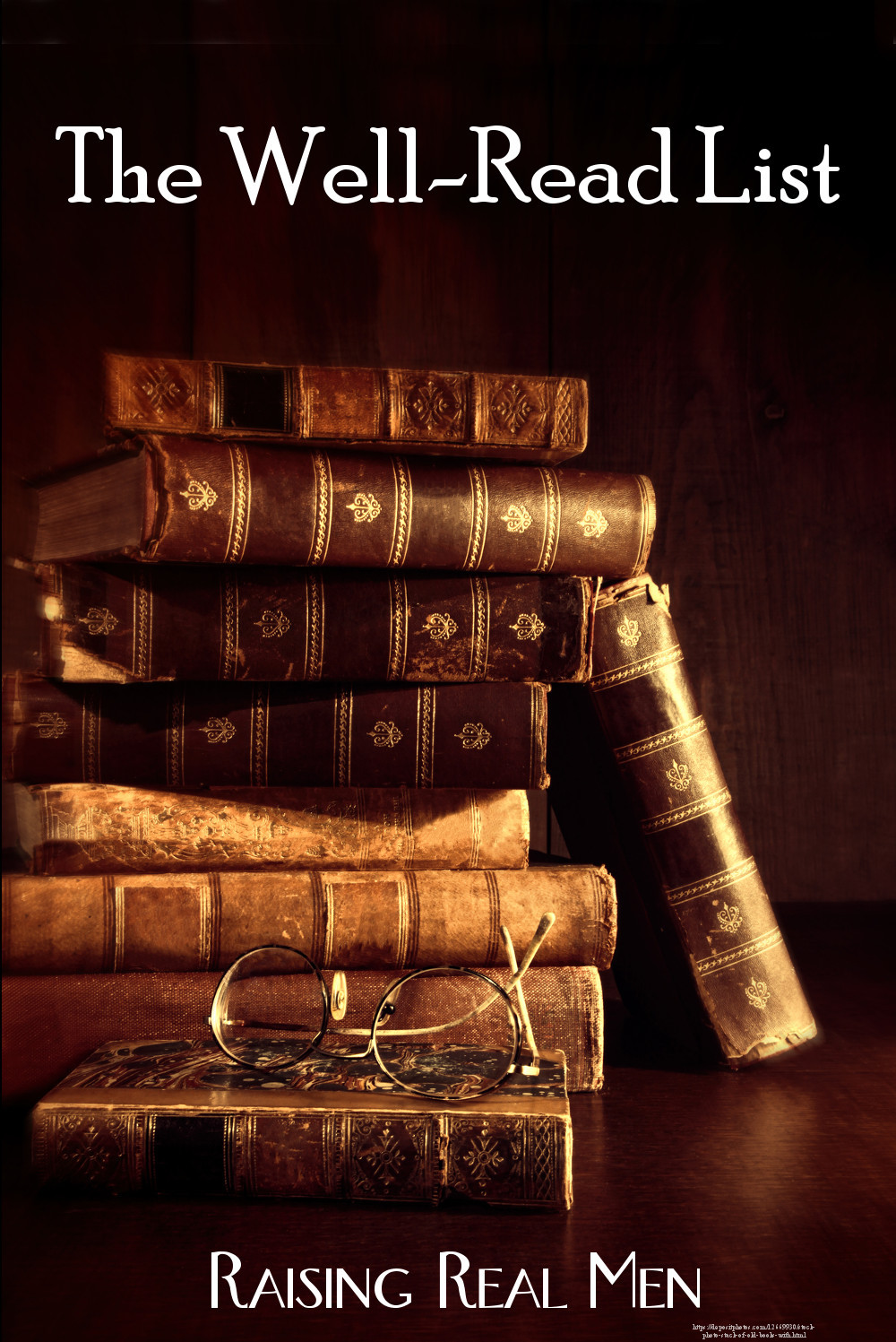 The Bible 
The Iliad – Homer
The Odyssey – Homer
The Histories – Herodotus
The Church History – Eusebius
The Republic –Plato
The City of God – Augustine
The Works of Josephus – Josephus
The Wealth of Nations – Adam Smith
How to Win Friends and Influence People – Dale Carnegie
The Adventures of Huckleberry Finn – Mark Twain
Hamlet – William Shakespeare
King Lear – William Shakespeare
Pride and Prejudice – Jane Austen
Cry the Beloved Country – Alan Paton
Little Women – Louisa May Alcott
Economics in One Lesson – Henry Hazlitt
The Art of Warfare – Sun Tzu
The Hobbit and The Lord of the Rings – JRR Tolkein
The Prince – Macchiavelli
The Swiss Family Robinson – Johann David Wyss
Robinson Crusoe – Daniel Dafoe
The Nine Tailors – Dorothy Sayers
The Politics – Aristotle
Democracy in America – Alexis de Toqueville
Watership Down – Richard Adams
The Holiness of God – RC Sproul, Jr
The Federalist Papers – Alexander Hamilton, John Jay, and James Madison
Moby Dick – Hermann Melville
Captains Courageous – Rudyard Kipling
Treasure Island – Robert Louis Stevenson
Frankenstein – Mary Shelley
The Double Helix – Watson and Crick
The Microbe Hunters – Paul de Kruif
Here I Stand (Martin Luther) – Roland Bainton
Erle Stanley Gardner's Perry Mason novels
Earl Derr Biggers's Charlie Chan novels
Little House on the Prairie – Laura Ingalls Wilder
There's more below, but if your children are a little young for this list, we have several more lists for younger kids! You can also get a free download of our workshop on teaching discernment – Media-Proofing Your Kids. Just subscribe to our newsletter and get our Great Books resource guide free. If you are already a subscriber, it won't add you to the list twice, so go ahead and sign up.
Winston Churchill – Paul Johnson
Agatha Christie's Hercule Poirot (suggest Death on the Nile) and Miss Marple novels
The Screwtape Letters – CS Lewis
Mere Christianity – CS Lewis
The Space Trilogy – CS Lewis
A Christian Manifesto – Francis Schaeffer
Addicted to Mediocrity – Franky Schaeffer
A Modest Proposal – Franky Schaeffer
His Excellency, George Washington – Joseph Ellis
Goodnight, Moon – Margaret Wise Brown
Make Way for Ducklings – Robert McCloskey
Homer Price – Robert McCloskey
How Should We Then Live – Francis Schaeffer
Cheaper By the Dozen – Frank Gilbreth
The Forgotten Spurgeon – Iain Murray
Undaunted Courage – Stephen Ambrose
Paradise Lost – John Milton
The Faerie Queen – Spenser
Lives of the Noble Greeks and Romans – Plutarch
The Autobiography of Benjamin Franklin
Enjoy!
Hal & Melanie