Coming of Age:
5. Celebration is Part of the Ceremony, Too!
in

At our sons' coming-of-age ceremonies, we aim to gather the wisdom of significant men in the young man's life and offer encouragement, welcome, and exhortation in a public, family-oriented setting.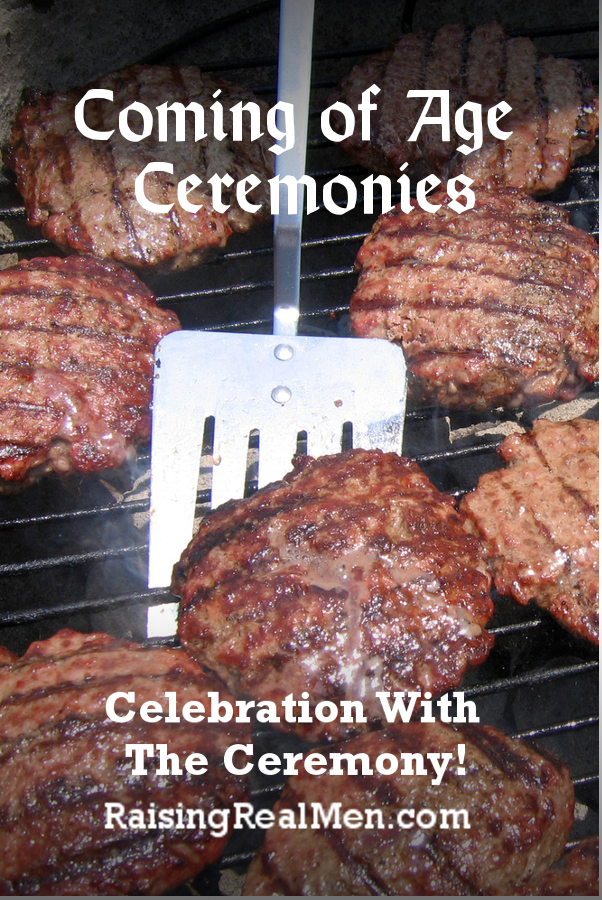 But it's not all teaching and ritual. Another thing we do is invite our guests to rejoice in this time of growth. Our family's birthday celebrations are small affairs (as small as you can get with a family of ten plus some grandparents!), but this party is a big one we plan for months and years in advance!
The form of the entertainment, just like the form of the ceremony, is entirely up to you. We let the young man do most of the planning (with advice and consent of the parents) for location, activities, and food. It has been interesting to see how the event reflects the young man:
= One son hosted a hymn sing
= Another asked for a simple time of unstructured fellowship with friends and their families
= Another son who enjoyed the games of Ultimate Frisbee he played with the young adults after church, asked to organize the biggest game of Ultimate he could imagine (over sixty players took part, in the area of three soccer fields)
= Yet another worked with friends in the country to hold a turkey shoot on their rural property. (If you're not familiar with the custom, it's an old target shooting competition common in the South. The Cary Grant movie Sergeant York included the old-fashioned event using a live turkey; we followed the modern custom using paper targets and a Walmart gift card!)
For location, we've used the church fellowship hall, a friend's back yard, our own home, or a city park.
For food, you could do anything from simple punch and cake, to a catered sit-down dinner. We've had buffet style (even pot luck) dinners, but find that a cook-out format works well with families; the expense is manageable, it's easy to ask guests to bring side dishes, desserts, or beverages, and the usual outdoor venue makes cleanup easy and spills no problem.
We have also found it works well to have the activities first, then the meal time, and then the ceremony.  The meal or refreshment preparation can take place in the background while the younger guests, especially, have more interesting things to do (and therefore, there's less crowding while the helpers are setting up the food). As the food wraps up, we move to the ceremonial part with the presentations, then close with prayer. The early busyness followed by food helps the little ones work off some energy and then settle down in time for the quieter part of the program.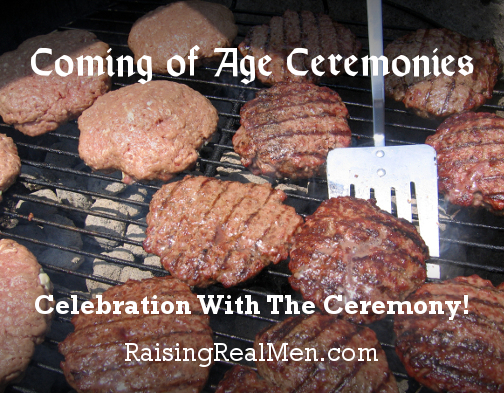 Next: A Few Final Thoughts