Coming of Age Ceremonies 2. Who We Invite
in

We described the idea of a formal coming-of-age ceremony here. We've done this with all six of our sons, and in a few years we'll consider how to celebrate our eldest daughter!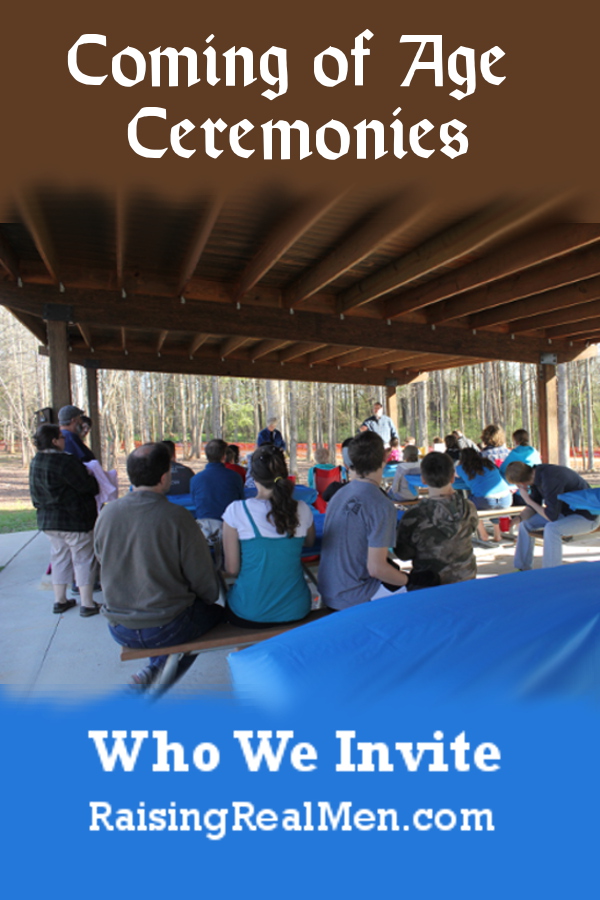 One of the earliest questions to answer is the form the ceremony should take … and therefore, who to invite? Since we're totally at liberty about this, we have both the freedom and the responsibility to consider this question for ourselves.
Many cultures around the world have initiation rituals. Frequently they are designed for the men of the family and tribe to take the young man (or groups of young men) away from the home community and conduct their ceremonies in a male-only environment. After all, the focus is on the transition from boyhood to manhood, and what is more natural than surrounding the young candidate with the men whose world he's about to enter?
Some families we know make it more intimate, where Dad will take his son away for a one-on-one retreat. This can take widely different forms. One father we know works in upper levels of corporate management; for his sons, the event is a trip to an upscale, out-of-town hotel, much like the world he experiences in his work life. On this business trip, the only business is that of father and son. Another friend goes the opposite direction. This father takes his sons to a wilderness area where they camp, canoe, hike, and explore the natural world, between times of discussion and prayer. In their family, it's like Jesus bringing His disciples out to a remote area for the same kind of intense fellowship between the Teacher, the disciple, and their God.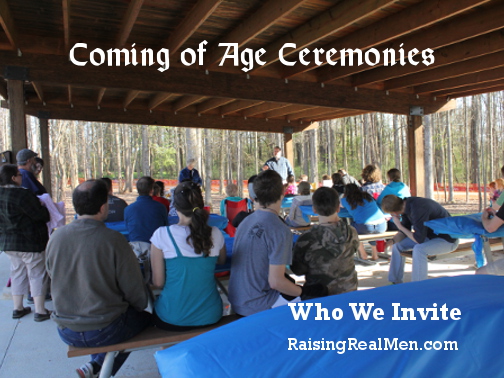 We take a different approach. Although we also invite the men of our family and church to bring a message and welcome to the young man at the center, we make the event a family occasion, with all ages and generations eagerly welcomed. For us, it's important to make a public profession of the new expectations being assumed by this young man, and the change in status we are now conferring. Though he'll always be one of our "boys," we won't be referring to him along with the "little ones" and "kids." We want others to hold him to account–and keep us accountable as well—and encourage him to embrace his new role, and everyone to recognize the change in status.
NEXT: What Do You Say To A Young New Adult?