Coming of Age: The Value of Ceremony
in

People often ask if we'd describe what we do for a coming-of-age ceremony with our boys. Surely with six boys we've done something of the sort … and the answer would be, "Yes, indeed!"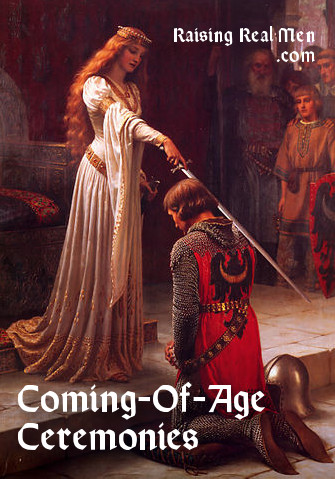 You've probably heard of the Jewish "Bar Mitzvah" tradition – where a Jewish boy is officially welcomed to adult status in the synagogue and the community. The term means "Son of the Law" so technically, it's the person who's the "bar mitzvah," not the ceremony. But at that time, the young man is invited to play a part in the synagogue meetings, counts as one of the men for the minyan or synagogue quorum, and is responsible for his own faithfulness towards God.
We think there's some value to this. Psychologists Joseph and Claudia Allen, in their book Escaping the Endless Adolescence, relate that many in their field are saying that the time of adolescence now continues into the early thirties, and "Twenty-five is the new fifteen." Sadly, the level of maturity we used to see in teenagers is all that is expected of twenty-somethings today. (<–Click to tweet this!)
We thought it made better sense to call our sons to step up for more adult responsibility rather than settle back for an extended childhood mentality. Where the Bible speaks about "youth" and "youthfulness," it often describes adult roles in the same context – the giant Goliath was a warrior from his youth, men are encouraged to rejoice in the wife of one's youth, God blesses the children of one's youth, and a missionary pastor in a pagan culture – Timothy – is counseled to not let anyone look down on his youthfulness. Being youthful doesn't have to mean being childish and irresponsible (though there are examples of that in Scripture, too), but apparently Biblical youthfulness is a time which extends well into young adulthood.
So when our sons turn 13, we hold a ceremonial welcome to young adulthood, and throw a celebration alongside. Just like the bar mitzvah tradition, it's a time both serious and joyful. However, as Christians we are not under law, but under grace, and since we hope that our sons are growing in the knowledge and experience of God's grace, we call our celebration a "Bar Chanon", or "Son of Grace" ceremony.
In keeping with that recognition of grace, not law, we have to interject here that there is no commandment to have such an observance. The Bible mentions at times that there are milestones in life and suggests that at some time, a young man should be respected as an adult and able to take on adult responsibility. But whether you observe this transition in a formal way, or choose to ignore it as an occasion, you're at liberty – if you decide to do something to mark the occasion, you can include all kinds of things in your celebration.
NEXT: Who We Invite
Hal & Melanie 
---
Do you have a pre-teen son? Are you looking forward to the teen years … with fear and dismay?
Or do you have a vision for something more than a sullen, rebellious, hormone-driven slacker?
You might enjoy our workshop, Skipping Adolescence! We don't accept the conventional idea that all teenagers are simply doomed to be trouble at home and brainless abroad. This workshop session talks about creating and building a new vision for young adulthood – from recognizing the transition from childhood to something more, to dealing with low expectations, cultivating a standard of excellence, and drawing out the young man in your teenaged son. Order below and download it today!