We Tried Samaritan Ministries…
The changeover to Obamacare was a tough one for us. Insurance through our small business became impossibly expensive – three times the cost of our mortgage! We checked into alternatives at the Marketplace, but we fell in the gap and healthcare there was impossibly expensive, too.
With trepidation, we decided to try one of the Christian healthcare sharing ministries. We had friends who loved them, but we had pre-existing conditions and were worried about going with something that didn't cover those. Seeing no alternative, though, we joined Samaritan Ministries several years ago. At least we wouldn't have to pay a fine for not having insurance. Samaritan members are exempt.
We were surprised by how satisfying it was to send our monthly share to another Christian family in need directly. Knowing where it was going and being able to send them encouragement and pray for them made it turned an obligation into a pleasure. It was great knowing that our money wasn't paying for things we didn't want to support, too. Unbelievably, two different months when claims were lower than usual, they reduced our share!
Then, late in the first year we were members, we had a couple of different medical issues at one time. I dreaded calling Samaritan to find out what to do, but I shouldn't have. It was such a blessing! The person who took our claim was friendly, reassuring, and kind. He seemed more concerned about us than about the money – what a change from dealing with the insurance company. They didn't question or dispute any of the expenses we sent in. We even prayed together before I hung up.
Samaritan mailed me a packet to fill out for each claim. It asked all the usual things, but also included a place to share the prayer request which would be sent out when the claim was assigned to other members to pay. They asked for you to list each bill, then to put the original amount and enter any discounts you were able to negotiate. That's when I found out something amazing…
Although there is a $300 deductible per event, any discounts you are able to get are credited toward your deductible! So, when I asked for a cash or self-pay discount at the doctor or hospital, any savings goes toward paying our part first! That means that one hundred percent of our claims have been covered!
Now, that $300 per incident deductible does mean that you'll have to cover those occasional ear infections on your own. And, preventative stuff like physicals and vaccinations are up to you to pay, too. Our entire family, though, is covered for $495 a month and we're even covered for huge catastrophic expenses by saving an additional $33.25 a month to share. Our old policy was $1000 a month with a $5000+ deductible. With savings like that, we should be able to pay for the other stuff on our own.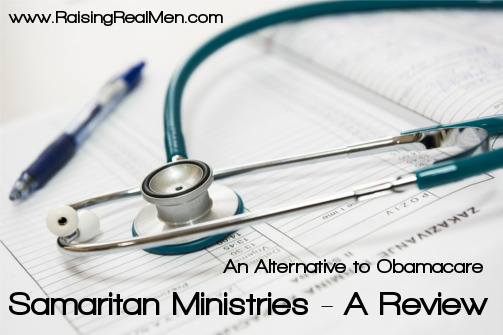 The only glitch we've had is that it was harder to get in to see a neurologist at Duke when I told them we were self-pay. The clerk said my doctor would need to send a referral request explaining the situation and they would have a meeting to decide if we could have an appointment! By the time they had done all that, we'd been able to determine what the problem was and get treatment. I have since found that it's better to just give them the Samaritan information when they ask for our insurance, then when they say they don't file it, to agree to pay myself.
The best part of the whole thing has been getting cards and checks from other Christian families around the country. Our daughter was really touched to read the notes from folks praying for her to get well. What a fantastic lesson that the Lord provides for his people – often through the love of the brethren.
We've got to say that we have thoroughly enjoyed being a part of Samaritan Ministries! We highly recommend you give them a try. If you do, we'd love it if you would tell them "Hal and Melanie Young" referred you. They'll give us a break on our share next month and that would be a help here for sure! Whether you do or not, though, we think you'll find Samaritan a blessing to your family.
What are you doing for health insurance? Are you happy with it? Does it cost more than it used to?
UPDATE: We have now used Samaritan for several years. We have found when making an appointment with some specialists at major medical centers, we need to just tell the receptionist "Samaritan" when they ask for insurance information and give them our member number or sometimes they will not make the appointment until you've been through a committee that decides which uninsured patients to accept. Since they *will* get paid, it is not as if we have no insurance and no way to pay, we just avoid all that.
Also, it has been a burden on us that they only cover prescriptions for a short time. We are in an unusual situation, though, needing expensive meds for a long time. Still, this is by far the best option for us. What it would cost to get ordinary insurance would be way more than what Samaritan doesn't pay for.
Hal & Melanie