Helping Boys Love to Read
in

"How do I get my son to read???" is a common question when we speak about homeschooling boys. Here's what we've done: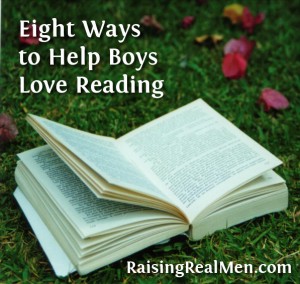 Be patient when you are teaching them to read. Earlier is not better when it comes to boys. The average boy five years old has the same developmental reading readiness as a girl of three and a half. Many boys who struggle because they just aren't developmentally ready to read yet decide that they just aren't any good at school. That's sad because it's not true.
If he's not reading fluently by nine or so, get some help. Many boys don't read because it's just so hard for them! They may have a learning glitch that is making reading harder than it ought to be. They need to learn to read well to enjoy reading. That means you may need to intervene. See below for resources.
Let them see you reading. Our children so often value what they see us value, not what we tell them we value. Let your children see you reading for pleasure and for information.
Make sure there are books around. Whether you own them or borrow them from the library, when there are lots of good books hanging around, it's more likely someone will pick one up.
Read aloud a lot! If a boy is struggling to learn to read, if we take the work out of it, we can help our boys see that books are the gateway to a land of adventure! Once they understand what wonders lie in the written word, they are more motivated to do the work. It's especially effective to read the first few chapters aloud, then leave it lying around. 🙂
Buy audiobooks. Just like reading aloud, audiobooks make "reading" easy. Listening to challenging books also helps our guys learn what the written word sounds like. It teaches them to follow longer sentences and more complex paragraphs. Then, when their reading skills catch up, their reading comprehension soars.
Choose books that are high interest. We do not subscribe to the theory that "it doesn't matter what he's reading, as long as he's reading." That's just not so. The Word of God tells us:
Finally, brethren, whatever things are true, whatever things are noble, whatever things are just, whatever things are pure, whatever things are lovely, whatever things are of good report, if there isany virtue and if there is anything praiseworthy—meditate on these things.
Instead, we look for books that are both profitable and interesting: high adventure or on topics our guys are interested in. Many boys find an interest in reading because they want to find out more about a hobby or fascination. Boys tend to read much more nonfiction than you might expect.
Keep working at it. One of our sons learned to read at four and another at eleven (he's the one with dyslexia). Some loved books from the beginning. In fact, one's first word after "mama" was "book!" Others we had to encourage and entice, but they all love books now. May your boys be the same!
Related Resources
For a list of high interest books for boys, go to our Links and Lists page and scroll down. For younger boys, here's our picture book list.
In "Surviving Struggling to Read," Melanie and our son, Samuel, share practical help for encouraging and supporting a child who's late learning to read. Highly recommended. (And it's on sale this week in our Fifth Anniversary sale for only $3.20)
One of our sons was severely dyslexic. Dianne Craft's Brain Integration Therapy Manual and Right-Brained Phonics helped him so much! Special Needs Homeschooling on the web and on Facebook are a big help. The Struggling Learners consultants at HSLDA are a good resource, too. And listen, learning struggles say nothing about a young man's intelligence or ability to be successful in life!
Our boys grew up reading G.A. Henty novels – or listening to the audiobooks. They are fantastic for teaching the manly virtues and real, solid, accurate history. Give your boys the right kind of heroes! We carry the best audiobook versions of Henty's stories – not to mention a ton of other free resources, including an audiobook about David Livingstone!)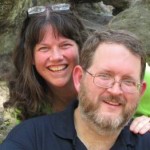 Yours in the battle, 
Hal & Melanie