Helping A Struggling Reader
in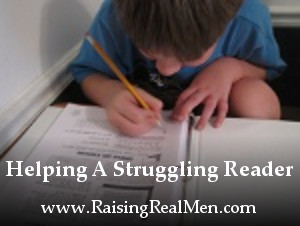 After our first few children learned to read so early and easily, we thought we were some ol' wonderful homeschoolers. Then came our next child – and humility! It was really tough, but we got through it and he's now a very successful college student. Here are some things that helped:
Don't despair – and don't let them lose hope either! God created us to read or He wouldn't have put His Word into written form and commanded us to study it. You can encourage your struggling reader a lot by telling them the stories of successful people who also struggled with reading like Thomas Edison, General George Patton, Winston Churchill and Agatha Christie. (Who would think someone who struggled with reading and spelling would become one of the best-selling novelists of all time? Agatha Christie did!)
Keep them up to speed in their other subjects. You or their siblings might have to read their math lesson and story problems to them, but there's no reason they can't keep up if they have that help.  You can also ask if your child's textbooks are available in recorded versions – many are. What a blessing to have our children at home where we can take the time and trouble to do that!
Develop their reading comprehension skills while you wait. Hearing the written word read aloud can help them learn to understand complex sentences and vocabulary. If you read great books to them and buy them audiobooks, when they do learn to read for themselves, their reading ability will just explode! Our son went from sounding out "cat" and "dog" to reading high school and college-level texts in a just a couple of years because he'd been listening to challenging books for years before that.
Get help and encouragement. There are tons of great resources out there. If yours isn't working for you and your student, don't be afraid to sell it and try another. Be persistent. You will both live through this!
==========
Dealing with learning challenges involves more than academics — there can be serious emotional and social issues, too. Melanie and our son Samuel offer an hour-long workshop on how to understand the worries and hurts of a struggling learner, and what you and your family can do to ease the pain and frustration! 
GET INSIDE
YOUR STRUGGLING LEARNER'S HEAD
Sign up below to hear our son Sam describe his own experiences struggling to learn (he's now in college on an academic scholarship!) with Melanie and learn not only how to help your child learn better, but how to help your struggling learner have hope and courage in this battle!