The Kindness of Strangers
in

When we last left this story, we were speaking at a church in Harrodsburg, Kentucky and the boys were enjoying Aunt Helen's sandwiches of mercy beside the road some 160 miles away in in a remote spot in the mountains. Melanie's tummy was aching from gulping a hamburger with a side of anxiety…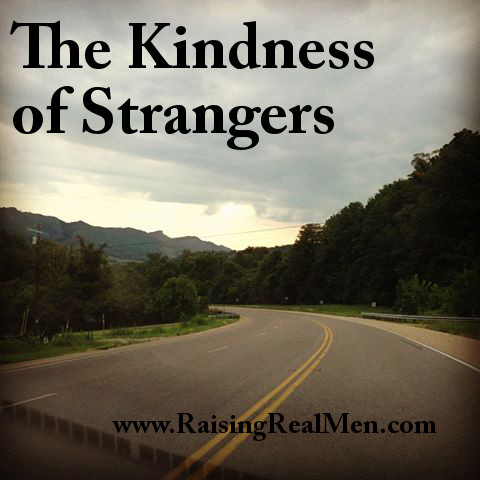 As soon as we finished, we raced to pack up and head back east. It was looking like 2 am before we could get there. The poor guys had been stranded by the side of the road since 6. We were so stupid with exhaustion we seriously got lost getting back on the highway from the gas station! Finally we got a good connection and I checked Facebook.
Our friends on the Raising Real Men page were wild! I hadn't known exactly where the boys were so I just said they were stranded in the mountains so people could pray. Everyone wanted to help. Our friends the Suarezes from The Old Schoolhouse Magazine were beside themselves – they knew the boys must be somewhere near them, but they couldn't reach them with the spotty cell and internet the guys had. What good friends!
By the time we got the messages, though, we felt bad about calling anyone – it was midnight! We thought we'd find a motel after we found the boys, but we drove and drove without seeing any possibilities. Right about then, though, Jennifer T, a wonderful reader of our Facebook page messaged us that she grew up in the area and had friends who had a guest apartment with an outside entrance we could use. Perfect! We could have a place to stay without disturbing anyone!
When we contacted her friends, the Moore family, we found out that they had been camping out in the backyard that night and had just come in to get something when the message came through. How's that for providence?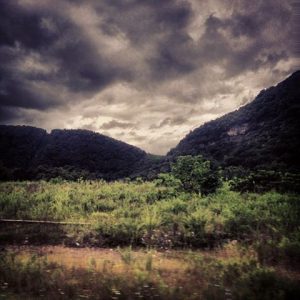 The Moores graciously offered to go get the boys and we gratefully accepted since we were still a couple of hours away. It's a good thing we did! It took them a long time to find them and they know the area – don't know if we could have found them!
What makes people call around and find someone in their hometown to help a stranger? What makes someone take strangers into their home at night?
"Let brotherly love continue. 2 Do not forget to entertain strangers, for by so doing some have unwittingly entertained angels." Hebrews 13:1-2
We're no angels, but it would take a cold-hearted person not to be touched by the care and concern of all the people commenting on our Facebook page. In the hours after we all arrived safely at the Moore home and posted that we were okay on Facebook, hundreds of people that had been staying up praying and working to help us "liked" the status. Wow. We love our brothers and sisters in Christ – we're thankful for you!
Hal & Melanie Young