Teaching Geography Inexpensively – and Effectively!
in

Several of our sons have done well in state-level geography bees, including one who ranked no. 2 for the whole state. When a public school teacher turned to Melanie in amazement and asked "What curriculum do you use?" she had to admit a dark secret … we seldom use a geography curriculum at all!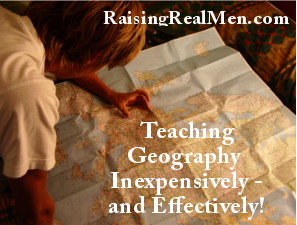 So how do we help our children learn it?
Make it accessible:  For years, we kept a world map and a U.S. map under plastic on our kitchen table (you can get tough, clear plastic in home improvement stores and fabric counters of discount stores). As we talked about current events over dinner, we'd simply illustrate them where we sat. "There's flooding in the Hunan province of China. That's over there, under the green beans." One family we met had a world map which covered the wall of their playroom, from floor to ceiling!
Make it personal: Use your family's history and your child's experiences to make geography real for them. Our four-year-old son once stepped to a chalkboard and sketched a very accurate map of the eastern U.S. We were shocked! When we asked how he could do that, he told us a short story about each state, just like we'd told him: "Grandma and Grandpa live here, Uncle Stan lives here, this is where we went on vacation …" And he had learned the shapes from a jigsaw puzzle!
Make it memorable: Much of history is connected to geography, whether it's the western expansion of the U.S., the military campaigns of Napoleon, or the growth of colonialism. We are fans of the novels of G.A. Henty, who wrote historical fiction with loads of geographical detail. Look for map clues in all your children's reading and point them out – follow the Ingalls family in the Little House series, explore the lands visited in missionary biographies, trace the Mediterranean travels of the apostle Paul or the journeys of Marco Polo! And don't overlook the maps in the back of your Bible – many of those countries, from Israel and Eqypt to Babylon and Persia, are frequently in the news today.
Make it fun: Kids love maps and globes. Get them! There are puzzles, games, memory songs and books galore, where geography is either taught or caught. All of these can be effective tools for sharing the outlines of God's world!
Whatever you do, point out that knowing something of geography can be an opening for sharing God's love with others. You may find, like we have, that most people haven't even heard of Kyrgyzstan or can tell you where Saskatchewan is, but knowing geography can give you more opportunities for friendship and ministry than you may have dreamed.
"[God] hath made of one blood all nations of men … and the bounds of their habitation …"
Acts 17:26
 Hal 
This article first appeared in The Homeschool Minute, 3/13/13 … Photo "Map Reading" by Bart Groenhuizen
Need ideas for teaching boys without going crazy? Get our workshop recording, "Ballistic Homeschooling: Teaching Sons" for a pile of good ideas!