Just Do the Next Thing
in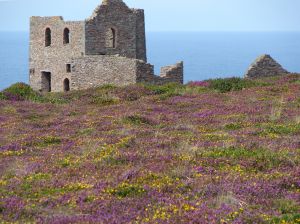 At an old English parsonage down by the sea,
there came in the twilight a message to me.
Its quaint Saxon legend deeply engraven
that, as it seems to me, teaching from heaven.
And all through the hours the quiet words ring,
like a low inspiration, 'Do the next thing.'
Many a questioning, many a fear,
many a doubt hath its quieting here.
Moment by moment, let down from heaven,
time, opportunity, guidance are given.
Fear not tomorrow, child of the King,
trust that with Jesus, do the next thing.
Do it immediately, do it with prayer,
do it reliantly, casting all care.
Do it with reverence, tracing His hand,
who placed it before thee with earnest command.
Stayed on omnipotence, safe 'neath His wing,
leave all resultings, do the next thing.
Looking to Jesus, ever serener,
working or suffering be thy demeanor,
in His dear presence, the rest of His calm,
the light of His countenance, be thy psalm.
Do the next thing.
Read Elisabeth Elliot's remarkable story of how this poem helped her through the martyrdom of her husband, Jim Elliot. That's where I first heard this wonderful piece.
If you are a homeschooler wondering how you're going to make it through the trial you are facing, our workshop CD, Homeschooling in Hard Times. may be a blessing to you. Please let us know if you are unable to afford it.
If you are suffering or helping those who are, Melanie did a Ladies Retreat called Walk by Faith with three talks on how to survive, glorify God and comfort one another in the way we've been comforted. Again, if you can not afford these, please let us know.