Why Veterans Day?
in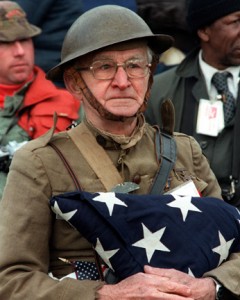 Did you know today was Veterans Day? The day we set aside to remember and thank all those who've served our country in the Armed Forces. It's those soldiers, sailors, airmen and marines that keep our country safe.
Have you ever wondered why we celebrate Veterans Day on November 11th?
It's because on the 11th hour of the 11th day of the 11th month of 1918, the Armistice was signed that ended the hostilities of World War I. For years afterward, this day was celebrated as Armistice Day. In 1945, World War II veteran Raymond Weeks started a movement to honor all veterans on that day and in the following years, Armistice Day became Veterans Day.
Why the silk poppies?
During World War I, Canadian physician Lt Colonel John McCrae wrote a poem remembering a friend who'd died in battle and thinking about the poppies growing on his grave – the poppies were about the only thing that would grow in the war torn soil. This poem inspired people to wear red poppies in remembrance of those who fought.
In Flanders Field
In Flanders fields the poppies blow
Between the crosses, row on row,
That mark our place; and in the sky
The larks, still bravely singing, fly
Scarce heard amid the guns below.
We are the Dead. Short days ago
We lived, felt dawn, saw sunset glow,
Loved and were loved, and now we lie
In Flanders fields.
Take up our quarrel with the foe:
To you from failing hands we throw
The torch; be yours to hold it high.
If ye break faith with us who die
We shall not sleep, though poppies grow
In Flanders fields.
Wow, when I read that this week I can't help thinking about our Founding Fathers and their  battle for our liberties. Will we take up the torch of freedom and pass it on to our children – and to others? Let's do all we can to educate everyone we know about the principles that have made this country what it is. Veterans Day would be a good start.
Thank you to all who have served in the military of this country to preserve our freedoms. May God bless you.
(And thanks for serving, too, Hal! ~Melanie)