Book Review: An Early Job Lesson — Do It
in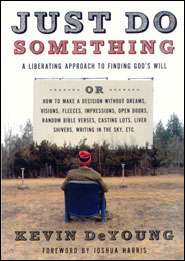 One of the biggest lessons I learned on the job, first in the military and then working in industry, is that sometimes you have to make a decision and move on. It's impossible to know everything about a situation or decision, and you can't know the future, so do what you can to make a reasonable, well-informed decision, then go forward. Deal with the mistake if you make one, but don't shut down on endless rounds of "But what if …"
It's a very simple, down-to-earth approach. Now, is it spiritual?
Kevin DeYoung thinks there's a lot going for it. His book Just Do Something is a concise 128-page look at the question of God's will, and he sees a lot of us have more worry about finding that will than pursuing it.
He points out the God's will is expressed in several different ways. His decrees, the will of what happens, is unchanging and absolute. It's the expression of God's sovereignty. His will of desire—my teachers used to say "will of precept"—is an expression of how we ought to live. Think of commandments and principles in the Word. It's an expression of God's character and holiness.
That "perfect will" that we desperately want to know is something else.
Does God have a secret will of direction that He expects us to figure out before we do anything? … [The] answer is no. Yes, God has a specific plan for our lives. And yes, we can be assured that He works things out for our good in Christ Jesus. And yes, looking back we will often be able to trace God's hand in bringing us to where we are. But while we are free to ask God for wisdom, He does not burden us with the task of divining His will of direction for our lives ahead of time.
Our problem, he says, is that we often over-spiritualize decisions which we should be making using the principles God has already revealed and the counselors He has placed around us. Certainly, pray, and sometimes long and hard too, but don't look for lights in the sky to replace the light God has already provided in His Word and His people. Don't waste time and opportunity looking for signs, where God has already given you principles and liberty to make decisions with discernment.
In this short, conversational book, DeYoung deals with all kinds of questions of direction and discernment, including a separate chapter on jobs and marriage, but his focus is just this: use wisdom first, and trust that God will lead in ways you see and ways you don't. After all, He wants us to trust Him, not try to second guess the things He never promised to show us first.
The secret things belong to the LORD our God, it says in Deuteronomy 29:29, but those things which are revealed belong to us and to our children forever, that we may do all the words of this law.
Kevin DeYoung, Just Do Something: A Liberating Approach To Finding God's Will (Chicago: Moody Publishers, 2009). 128 pages.