Teaching the Trivium & Fallacy Detective from Trivium Pursuit
in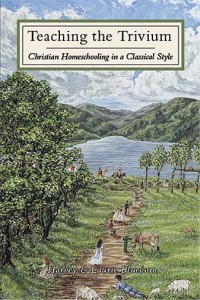 Teaching the Trivium: Christian Homeschooling in a Classical Style by Harvey and Laurie Bluedorn
How can you give your children the tools they need to teach themselves? Long ago students were first taught how to learn. Today, students are taught an encyclopedia of subjects – trivia – but they are not taught the basic skills of learning: to discover, to reason, and to apply. They are not taught the Trivium.
Can you homeschool in a classical style without compromising your Christian principles? Because we are Christians, we do not want to pursue non-Christian goals. Classical Education must be sifted through the critical screen of the Scriptures to be transformed into a Biblical model.
Can you homeschool in a classical style without buckling under the burden? There is only so much time in the day. For every subject, and for every age, we have a workable plan – which leaves you free to breathe. You can continue to use other approaches to homeschooling within the framework of Classical Education.
Is homeschooling about renewing family vision? The family is at the heart of God's plan for restoring Christian culture. Homeschooling is not alternative education. Homeschooling was here first. We want to restore Biblical order to education.
Retail: $34
AND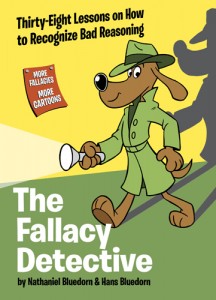 The Fallacy Detective by Nathaniel Bluedorn and Hans Bluedorn
New Third Edition — More Fallacies, More Cartoons
What is a fallacy? A fallacy is an error in logic – a place where someone has made a mistake in his thinking.
These are fallacies:
"A cloud is 90% water. A watermelon is 90% water. Therefore, since a plane can fly through a cloud, a plane can fly through a watermelon."
"This new book, The Fallacy Detective, must do a good job teaching logic. It has been on the bestseller list for months."
We wrote this book to meet the needs of Christian parents who want a do-able text for introducing logic and critical thinking to their children.
Fun to use – not dry like a math textbook.
Self-teaching – not intimidating, starts students with skills they can use right away.
Each lesson has exercises for students, with an answer key at the back.
Covers logical fallacies and propaganda techniques. We divided the most common fallacies and propaganda techniques into thirty-eight lessons. We explain how you can spot fallacies, and we give exercises to stretch your abilities for detecting fallacies.
Geared for ages twelve and older – we suggest using The Fallacy Detective before advancing onto more difficult logic programs.
Includes The Fallacy Detective Game, giving you and your friends an entertaining way to spot and make up your own examples of fallacies.
Christian view of logic. Many critical thinking texts introduce political correctness. This book does not.
Can be used before or after The Thinking Toolbox
Cartoons to illustrate the logical fallacies discussed, including Peanuts, Dilbert, Calvin and Hobbes, and several original cartoons
This book is for fallacy detectives. We've designed this book to be a handy-dandy text for learning to spot the errors in thinking that you meet everyday on the street, in the newspaper, or on television – or errors you make yourself.  An easy start to logic — for ages 12 and up.
Retail: $22