Making College Visits Count
in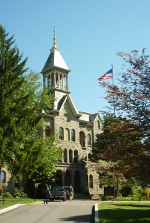 "We're off to spend a week tramping from college to college," Melanie was telling an old friend.
"Why would you do that?" she said. "Seems like a big waste of time and money."
But then, Melanie remembered the college visit that changed her life.
She and her mother were parked beside the bell tower at a university near their town. "I just don't feel good about it," Melanie was saying. "I don't even like it here. I don't want to go here!" Her voice got more and more edgy as she realized her plan to stay close to home and go to college with friends wasn't going to work out.
Her mother simply said, "Fine. Let's go visit Clemson."
Melanie didn't want to. Her father had gone there and she'd heard about it, too much about it, all her life. And it was way too far from home. She didn't know a soul going there. But that didn't matter—Mama was going to make her.
To her surprise, she fell in love with it. The people were so nice. It was so beautiful. They talked about stories of her parents' life there. She was hooked–she felt like she belonged. And she's still glad she went there. It's there that she was discipled in Christ. And it's there she met her future husband.
See, a college visit changed both our lives!
How Do You Sort All This Out?
After your child takes the PSAT or SAT, they will likely be flooded with marketing emails, viewbooks, recruiting letters, and catalogs from colleges all over the country. How can you make sense of all the hype? How can you figure out if a college is really what your child needs?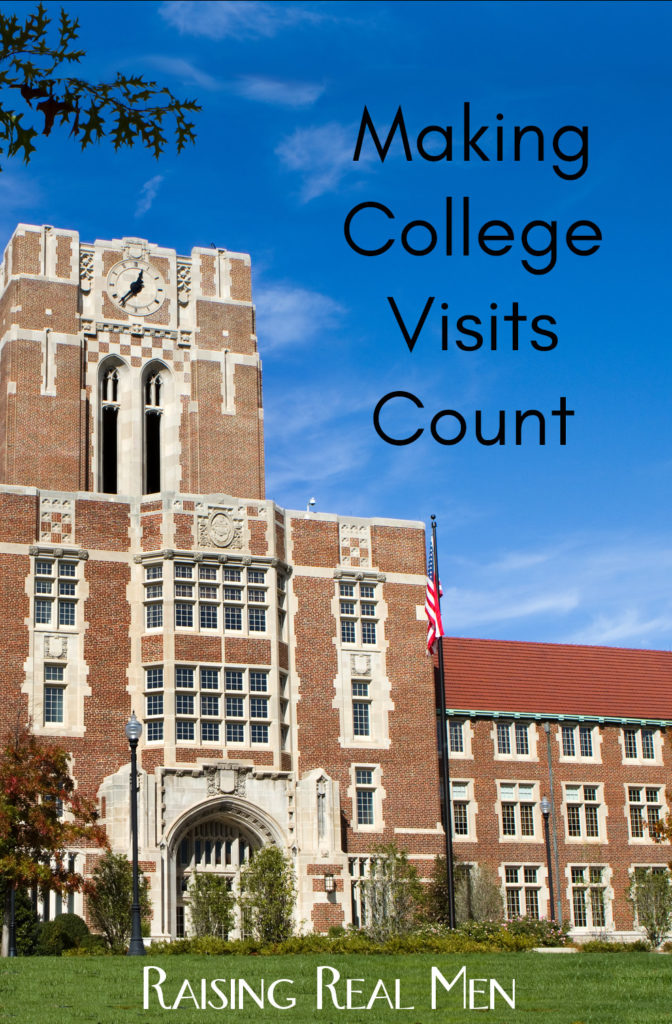 Obviously, you can rule out the schools which don't offer your student's prospective major, the ones that are too far from home, or have some feature your student simply doesn't desire–attending VMI or The Citadel involve more than academics, for example. But when you've narrowed the list down to your student's "Top Ten Colleges and Universities," what's the next step? The answer is to go see them for yourself.
For our first three graduates, we've made—to date—about two dozen campus visits, and there are more to come. Here are some things we've found that make these l-o-n-g days much more effective:


Don't Wait For Tour Weekends
It's best to visit on a weekday during the regular school calendar. That way you can see the normal activity on campus, and maybe visit a class or two. Avoid the first and last weeks of the semester, though—they're full of distractions from the start of classes and final exams.
Have Your Student Make The Calls
Your son or daughter—not you—needs to call the admissions office and set up their appointments. It makes an immediate impression that the student is taking charge of his or her own life, not meekly following in Mom and Dad's wake, and it can head off stereotypes of the socially inept homeschooler. The call can be as simple as, "Hello, I'm Sam Studious. I'm a homeschooled junior from North Carolina and I'd like to arrange a visit to your college. Could you tell me who I should speak with?"
Go Ahead And Listen To The College's Presentations
The admissions office will usually offer information sessions and a tour led by a student (be sure to wear comfortable shoes). These are a useful overview and will help you get a big picture of the college's mission and vision. Don't stop there, though—this is the college marketing itself, and you need to take the next step.
Ask Your Own Questions
Besides Admissions, you should ask to meet with the Financial Aid department. To our surprise, many of the small private colleges have very liberal scholarship and aid programs. It was actually cost us less to send our son to an upscale liberal arts college than to a nearby state-funded university. If your student is interested in the Honors College or other special programs, they should try to get an appointment with the leaders of those programs, too.
Watch For Culture Clues
Your student will only spend a few hours a day in class. What will the rest of their life look like? Ask the admissions office if you can eat in the student cafeteria; some will even offer vouchers to take your whole family to lunch. You student may eat twenty-one meals a week here, so it's good to sample what they're in for!
Walk through the student center, post office, and dormitory lobbies. What's on the bulletin boards? How do campus groups try to appeal to students? We visited some historically denominational schools where the campus life appeared centered on sex and alcohol, the same as nearby state colleges; we only discovered this by reading the ads posted in the commons areas. We've seen secular public universities with a strong Christian community on campus. Don't assume anything — look for clues!
Other questions you might ask are whether students tend to stay on campus over the weekend, or if social life focuses on nearby cities. Do fraternities and sororities dominate social activities, or is there a broad mix of "Greek" and "independent" groups?  Does the school have a reputation of hard studying, hard partying, or a balance of the two?
Talk With Real People
Meet with a professor in each major your student is considering. Ask if you can sit in on a freshman class in the major. Look up the campus minister for the student group most like your home church; we always tried to meet one for lunch or coffee, and ask about the spiritual life of the campus. It's good to look for student clubs and activities that might interest your son or daughter; most campuses have musical groups, intramural sports, and other programs your student might join even if they're not majoring in the area.
Don't Give Away Your Heart … Too Quickly
Be sure to thoroughly talk over your visit on the way home or in the next few days. Compare your observations and impressions; you will notice things your student can't, and they are likely to see things you overlook, too. Remember that colleges are societies of people, not buildings and statues; they change over time, and your alma mater is likely to be quite different than when you were there a few decades ago.
Most importantly, recognize that college is a time of preparation for life. God has a purpose for your child that may be very different than your own, and the college they need to attend may come as a surprise to you. Ultimately, you want them to find the place which is in the center of God's will—even if they end up at your favorite college's in-state rival!
Get free help with the College Decision – and getting scholarships and being successful while they're there with this great resource pack!
GET ENCOURAGED!
Sign up for our free newsletter
and we'll send you our new
COLLEGE DECISION
RESOURCE PACKAGE
It's Free - We Won't Share Your Address - You Can Quit at Any Time!
—–

Hal and Melanie Young are the authors of Raising Real Men: Surviving, Teaching and Appreciating Boys  their book on marriage, My Beloved and My Friend, and their new book for young single guys, Love, Honor, and Virtue. They are the homeschooling parents of six real boys and two real girls. When they aren't traveling all over speaking about raising sons, marriage and homeschooling, they live in noisy familial bliss in North Carolina. Check out their page on http://Facebook.com/RaisingRealMen