Coming In March!
in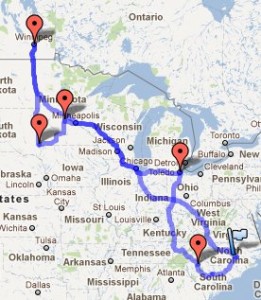 This month, we'll be spend more than two weeks and cover more than 3700 miles on our first trip of the season – but how we get there, and when we return, may be up to you!
We're heading off for two conventions and three other events stretching from South Carolina to Manitoba –
Spartanburg, S.C. – March 15-17
"Teach Them Diligently" Convention
Toledo, Ohio – March 19
FAITH Homeschool Support Group
Winnipeg, Manitoba – March 23-24
Manitoba Association of Christian Home Schools Conference
Sioux Falls, South Dakota – March 26
Sioux Empire Christian Home Educators
Kingston, Minnesota – March 27
Cornerstone Church of Central Minnesota
BUT … there's room for more! The route we take and how long it takes us are still open questions. We might follow the direct line, or we might go as far south as Oklahoma or Arkansas, as far east as Pennsylvania. And that means you might be able to host us for little or no cost to your church, support group, or even just a circle of friends!
How can you know?  Simple! Just look at the maps (there are several, keep scrolling!) below, and if you live in one of the shaded areas, we could be in your area soon! And if you'd like to see if we're available to stop, drop us a line at info@RaisingRealMen.com ! We'd love to hear from you!
Week of March 18

Sunday, March 18
We'll plan to stop somewhere between Lexington, Ky. and Charleston, W.Va.

Tuesday, March 20


We'll probably be somewhere near Milwaukee, Wisc.

Wednesday, March 21
We may stop between St. Cloud, Minn. and Fargo, N.D.

Week of March 25

Sunday, March 25


After the Manitoba conference, we could easily stop and speak for a church group Sunday evening in Grand Forks, Fargo, or even a bit south
After speaking in Sioux Falls, S.D., on Monday and Kingston, Minn., on Tuesday, we'll head south and east, but the exact route is open:Wednesday, March 28
We could be in southeast Minnesota, north/central Iowa, or southwest Wisconsin

Thursday, March 29
We might be in Milwaukee, Chicago, Indianapolis, Kansas City or Louisville! Or anywhere in between!

 Sad because you don't see your area listed? Don't be! Please use the contact form at the bottom of the page and let us know! In May and June we'll be traveling to Michigan and Ohio, so available in TN, KY, WV, VA, IN, OH, PA and MD and the fall is still pretty open for Raising Real Men weekends and more! Let us know if you'd like to host us – for a big event, a small group, a group of your friends at home, or just a visit!