Two Rules Would Have Saved Paterno
in

Fabled career goes up in smoke because a subordinate took a wrong turn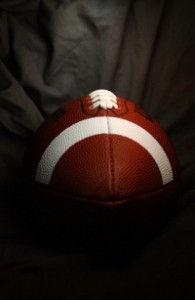 Joe Paterno spent 46 years coaching football at Penn State University. Last night, the Board of Trustees told him no, you can't retire in six or eight weeks. You're fired, as of now.
And he's not the perpetrator.
Joe's problem really stems from a former assistant's decision to disregard a very simple rule many years ago. You can put it in words of a few syllables:
Only do sexual things with your wife.
Very, very simple. It works for old men, it works for single guys, it works for fraternity brothers and teenage jocks and young boys with squeaky voices.
Is that girlfriend your wife? No.
Is that other man your wife? No.
Is that child, that animal, that object, your wife? No.
Are you your own wife? No, you neither.
Then you don't do sexual things with them. Only do sexual things with your wife.
Former Penn State football coach Jerry Sandusky was charged November 5 with 40 criminal counts, including sexual assault, against boys as young as 11. Reading about it is nauseating. It's revolting stuff that doesn't bear repeating, except to say this is not a case of suspicion or testimony by children or other things which arise in abuse allegations. Sandusky was seen by different adult witnesses on separate occasions, performing sexual acts with children in the Penn State locker rooms. It's not about unwelcome hugs. It's stuff that got people stoned to death in the Old Testament.
There are a million words coming on this story. Reading them will be like swimming through a sewer with your eyes open. The fact is this man's perverse desires will put him in prison, where he is likely to experience some abuse from the victim's perspective. Who can say what he's done to the lives of these eight boys?  He's wrecked his own life, too. But the results of his lust have now ended the career of head coach Joe Paterno and the 16-year tenure of university president Graham Spanier. Athletic director Tim Curley and university vice president for finance and business, Gary Schultz, were also arrested November 5 and charged with perjury for their handling of the investigation.
I'm sure that Sandusky never expected to bring down the careers of Paterno and three other men in dishonor and criminal charges. He never imagined he would crush his own family and the wives and children of his colleagues in shame. He never thought his shower-time meetings with boys in his mentoring program would be national headlines.
But I'm sure at some time in the long distant past, Sandusky reached a fork in the road and had to make a decision – do I look at that image, or do I indulge that thought, or follow that fantasy in my mind's eye … or not? When you reach those intersections, the answer should be, Whoa—Don't go there. Then you change channels, or get out of the shower, or go for a walk or something. Take the other road.
Sandusky, at some crucial moment which he probably never recognized—probably none of us know at the time when those critical points are reached—at some point, he said to himself, It's not real. It won't hurt anyone. And no one will ever know. And from that moment on, he was on a downward road.
He didn't wake up one morning and decide, out of the blue, Hmm … I think I'll commit a felony against a child today. Even the crimes that were witnessed show a pattern of progression. It was the fruit of years of small steps on a path he chose to follow. Somewhere, he gave himself permission to take that path.
Oh, there is one other small principle which might have helped him. Jesus taught that God sees the thoughts and intentions of our hearts just like men see the direction and result of our actions. Murder is wrong, and men judge it, He says, but God puts His finger on the unbridled anger which is foundation to the murderous impulse. [1]
Likewise, the act of adultery is sin. So is the longing for it, Jesus says, because even indulging the wish is counted as the sin. [2] Adultery, and all sexual sin, doesn't start in the bedroom; it starts in the heart, in the imagination, and God says No, don't go there. Thoughts matter.
Two simple rules, words of just a few syllables. Thoughts matter. Only do sexual things with your wife. Sandusky disregarded them, chose a different path, and here he is now. Could we be near a crossroad in our own lives today? Could our sons?
No matter how fast you flip the dial on the car radio, it's going to be hard to avoid your children hearing about this. Teens have probably already heard. Sports news travels fast. Maybe we should take this opportunity to talk with our teen and pre-teen sons about the far-reaching consequences of lust, about the importance of coming to an authority when something just doesn't feel right, and about the huge lie Satan tempts us with, "No one will ever know."
On the contrary, the events in State College this week demonstrate Paul's warning, Do not be deceived: God is not mocked, for whatever one sows, that will he also reap. [3] Or Jesus', "Nothing is covered up that will not be revealed, or hidden that will not be known." [4]
=====
(c) 2011 by Hal and Melanie Young.

Concerned about the images your family may be exposed to? For accountability and filtering, we recommend Covenant Eyes —CLICK HERE for a free 3o-day trial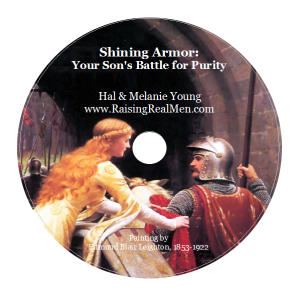 Wonder where to start when talking to your sons about purity? Listen to our workshop "Shining Armor: Your Son's Battle for Purity". Order below or  CLICK HERE to order and check out our other great resources.
=====
Scripture quotations from the English Standard Version.
[1] Matthew 5:21-22
[2] Matthew 5:27-28
[3] Galatians 6:7
[4] Luke 12:2]
Add items to cart, then click check out in the shopping cart in the left sidebar.