For Instruction in Righteousness
in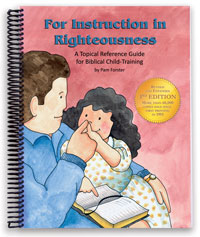 Next up is one of our favorite resources from one of our favorite companies. We have used For Instruction in Righteousness since our adult children were young and we have seen our children's hearts changed time and time again by God's Word through this book. In our opinion, every family needs this book — and needs to use it!
This topical Bible for parents will help you use the Bible every time your children need instruction. Hundreds of Bible verses are organized according to 52 common types of misbehavior, along with numerous parenting ideas and suggestions.
We want our children to understand that "right" and "wrong" are absolutes, based on God's standards, not ours. If we train our children to submit to the authority of God's standards, those standards will not change when the children grow up and leave the authority of our homes.
Read more and download a free chapter
From Doorposts, a great source of Biblical parenting helps!
Enter using PunchTab for multiple entries or just leave a comment below!