Review: Moonfinder by Jay Ryan
in

We cherish children's books in our family. When you have eight children, the books that you've read to every single child enter the family lore, with phrases from them bringing a smile years later. "Good night to the old lady whispering 'Hush!'"

We've gone so far as to sit in Boston's Public Garden reading a copy of Make Way for Ducklings purchased at the Corner Bookstore, then riding the swan boats afterward. How sweet to hear that little guy in my memory, since he's all grown up now, shouting with joy, "Mama, it's Mr. Mallard!" as a fine drake swam by.

Moonfinder by Jay Ryan is one of our kind of books. I love books that are gentle and sweet and memorable for young children. I also love books that stretch their minds and spark interest in finding out more about the world. Moonfinder is just our kind of book.

In Moonfinder, a young boy is led by his father to learn to watch for the moon and to understand why it changes phases. The family relationships between David and his father, mother and siblings is portrayed in just the right way – happy, secure, joyful. Just right!

The lovely paintings, which are also by Jay, are pleasant and peaceful and full of joy.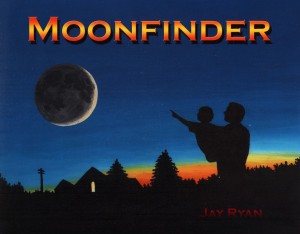 I especially love the facial expressions – so delightful! They are just right for reading to young children. My two year old, though the information was a little much for her was so delighted with the paintings she absolutely demanded I read the book to her. Our six year old was fascinated by the explanations and tried to figure out exactly how the moon worked. Our nine year old enjoyed reading it to his younger siblings, especially the science behind it all.

Jay Ryan is the author of  Signs and Seasons: Understanding the Elements of Classical Astronomy, an astronomy curriculum we'll be reviewing soon, and that is yet another thing that told me I'd love this children's book even before I opened it. Have you ever wondered why the old Landmark books are so, so good that they haven't been matched in decades? It's because they are each written by an expert in that field, instead of some so-called expert in children's books. There's something irresistible about a fanatic! In my experience, no one can pass on the joy and essense of a kind of knowledge better than someone who's made it a passion.

Moonfinder is a beautiful book that is sure to become a picture book classic. Beautiful paintings, science, family life, and nature study all combine to make a volume both boys and girls will love. This is one you need on your shelves! Highly recommended. 

Moonfinder by Jay Ryan, Fourth Day Press, 8.5 x 11, Full Color Hardcover, 32pp. Buy here from the author's site to keep great books coming out!

We received a free copy of Moonfinder in return for our always honest review.