Our Cup of Joy Runneth Over
in

KNOXVILLE – 413 miles:  We were amused and delighted to see this complementary coffee cup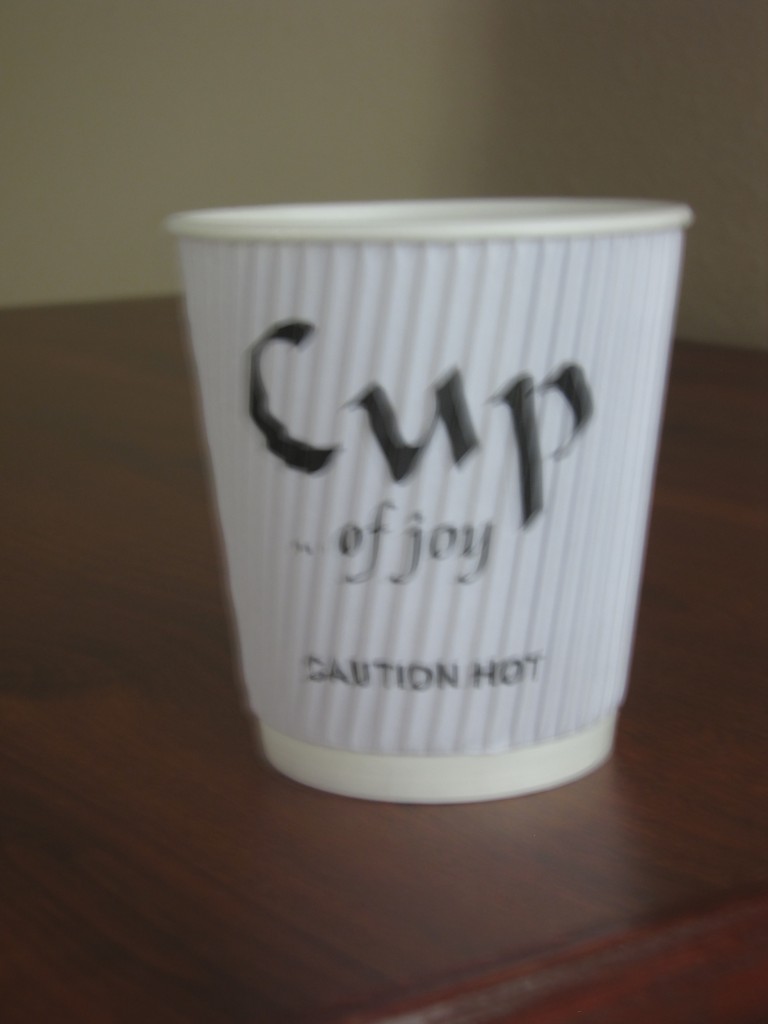 in our hotel room last night. Of course, it was just unusual and funny, but it really fit the situation, too! Our cup of joy does run over with God's blessings!
Some of you will remember our plea for thoughts and ideas on how to get all our stuff out West – we're off on a 6000 mile speaking trip: North Carolina, Oklahoma, Arizona, California, Nebraska and likely, Missouri. We own an open utility trailer, but that wouldn't do when we had to park it in urban areas for conferences. What we needed was an enclosed trailer that would easily hold our camping supplies, books, CDs, audiobooks, and toys to sell, and all of our booth set up, but there's no way we could afford that right now.
Thursday a week ago, I was getting worried. I remember praying "Lord, I need to start packing, but I have nothing to pack in. Please show us what we need to – ship things, build a shelter for the utility trailer, whatever you want." That evening a family in our church called. They felt like the Lord wanted them to buy us a trailer! God is so good!
Of course, the trailer they had found wasn't available since the owner went out of town, so we spent several days frantically searching craigslist for one that would work for us and fit the budget. Finally we found a likely possibility a few hours away, but it was over budget by a few hundred dollars. What a delight to find that the owner, after getting to know about us, willingly came down and said, "I am just glad it's going to be used for the Lord's work!"
In our flesh, we wouldn't choose to be unable to afford the things we need for our business and ministry, but in the Lord's providence, we've been challenged by trial after trial the past few years. A dear mom told us at our booth at the HINTS conference yesterday, that looking back, she wouldn't want to give up the good things that came out of her trials. We feel the same way! The Lord could have spared us needing a new engine on the van, and perhaps we could have paid for it ourselves, yet then our own work would have gotten the glory. This way, with the Lord providing it through the love of the brethren, He got the glory! And the dear family that gave us the trailer got the blessing of fulfilling Galatians 6:2:
Bear one another's burdens, and so fulfill the law of Christ.
And we are really blessed! We have seen the love of the brethren, are reminded of the love of God every time we look in the rear view mirror, and the temporal blessings, oh the temporal blessings! Anyone who has gone on a very long trip in a van full of children will thoroughly understand the joy of shoving all the paraphernalia in the trailer – boxes and boxes of business stuff, camping gear, clothes, luggage, coolers, everything. Thank you so much, Lord! Yes, the "cup of joy" was just about right!