Four Copies of "Bless The Lord"
in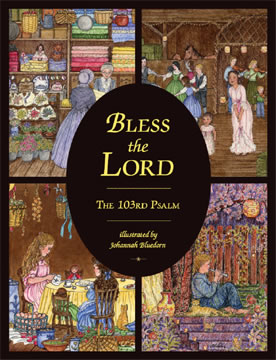 Trivium Pursuit is pleased to announce the release of their newest children's picture book Bless the Lord: The 103rd Psalm. This is the second in the Illustrated Psalm series by artist Johannah Bluedorn. In addition to the 30 paintings illustrating the text, the psalm is set to music.
About the author/illustrator: Johannah Bluedorn has been homeschooled all her life and is self-taught in art. Skilled in the use of a variety of media, Johannah has illustrated several other children's books, including Little Bitty Baby Learns Hebrew, My Mommy My Teacher, The Lord Builds the House: The 127th Psalm, and The Story of Mr. Pippin (all published by Trivium Pursuit), and From Dark to Dawn: A Tale of Martin Luther and the Reformation and Raising Maidens of Virtue (both published by Books on the Path). In her spare time, she raises Jersey cows, trains her horse, and enjoys many types of handwork. Johannah lives with her family in New Boston, Illinois.
Win a copy of Bless the Lord, an $18.00 value! Just comment below to enter the drawing!
Congratulations to Michelle J Stahnke, Terri G., Alissa, and Homeschoolfamily! See below!