Doorposts
in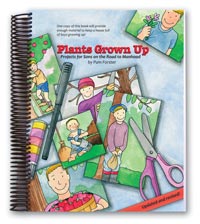 Some of the first family life resources we discovered as new homeschoolers were the outstanding materials published by Doorposts.  Their books and training tools are attractive, thoughtful, practical, and most of all, Biblical.  Their charts on diligence ("Go To The Ant") and reconciliation ("Brother Offended Checklist") were early items of decor in our home!
The Forsters are offering one winner a choice of any item from their "For Boys" collection.  While I can highly recommend several of the books they carry (I love J.C. Ryle and Voddie Baucham, and they even carry one by some people named Young 🙂 I'd encourage you to check out their Plants Grown Up resources for project ideas for your young men!
Post a comment below for your chance to win!
Congratulations to Heure, who won this terrific prize! So much to choose from!