All About Spelling!
in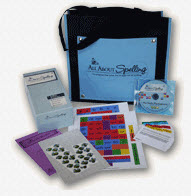 Why All About Spelling Works
Here's what their site says:  All About Spelling is an excellent program if you are just beginning to teach your child spelling, or if your child needs remedial help. Here's why it works:
All About Spelling is multisensory. The lessons involve sight, sound, and touch. Children learn best when they are physically involved in the learning process, so we take advantage of that fact with this hands-on approach to learning and teaching spelling.
All About Spelling is logical. Spelling concepts are taught in a logical, understandable order. Each lesson builds upon the previous lesson. The sequence has been carefully tested to produce long-term results. And this is as much a benefit to you as it is to your student—especially if you've been struggling with how to teach spelling.
No gaps. This is something that you can trust with the All About Spelling program: your child won't be left with gaps or holes in his or her understanding of spelling. If there is a reliable rule that will help your child out, we teach it. If there is a tip that will help your child master a certain spelling pattern, it's in there. And it's all presented in a very logical order.
The program is mastery-based, not grade-level based, so when students master a specific concept, they move on. If a child needs more practice in a certain area, we allow for that so the child can really master each concept. There's no sense building on a shaky foundation, because that will cause spelling difficulties down the road when the spelling words get harder. At All About Spelling, we've identified the concepts that are most important for your child to master, and we've weeded out any busy work.
All About Spelling has continual review. As the child learns new material, he or she also constantly reviews previously-taught concepts. We don't just "teach it and forget it"…we make sure that it really sticks.
Finally, the program is clear. This means that children are taught what they need to know in a direct manner. They don't have to guess or come to their own conclusions about the English language.
These techniques have long been used by Orton-Gillingham practitioners, and now they are available to home educators and tutors through the All About Spelling program. All About Spelling combines the very best of the Orton-Gillingham approach with the latest research and proven spelling rules. And best of all, the scripted lesson plans are very clear and easy for you to follow.
Marie Rippel of All About Spelling will give away a complete "All About Spelling Level 1" plus a Deluxe Interactive Kit. This is everything that you need to teach Level 1 of their spelling program.
Win a copy of All About Spelling's  "All About Spelling Level 1" plus the "Deluxe Interactive Kit"  Post a comment below to enter!
Congratulations to Teri Shepard! See below!