Book of the Year and Books for Many Years!
in
Dear Friends,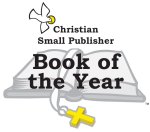 We have been nominated for the Christian Small Publisher Book of the Year, which honors books produced by small publishers each year for outstanding contribution to Christian life. The really exciting part is that this award allows everyone to vote – publishers, retailers, authors, and yes, readers, too!  This is the last week that voting is allowed, so we are going to be celebrating – and asking you to vote – until March 31st. Stay tuned for great give-aways and freebies every day this week.
We'd like to start out with some of our favorites. Many of you have heard us speak of the need for real heroes in a boy's life. Well, our boys have lots of heroes, each exemplifying different character traits of a godly man, found through reading the most excellent historical novels of G.A. Henty. It was later, after we first had a late reader, that we discovered
Jim Hodges Audio Books
. What a find!
We were delighted that our son could enjoy the same books his brothers had and grow up with the same heroes, but also that he was able to learn to understand complex language. That helped so much when his reading caught up! He jumped right to reading on grade level!
We discovered another benefit, though. We all loved listening to the Hentys as we were working or driving. They are stories that are just bound to grab your attention!
But why Jim Hodges when there are several folks doing the same thing? Well, we first chose Jim Hodges because all his books are unabridged! We wanted our boys to hear the whole thing – all about the geographic location, the historical setting, and the terrific language – and not to hear some simplified version  that would miss some of the greatness. Also, Jim has a pleasant voice and loves the books himself – makes a difference, that's the same reason why Hal read Raising Real Men for our audiobook – interpretation counts. I'd choose Jim Hodges now for even more reasons. When we were first starting out, Jim took the time and trouble to help us. He recommended us to his own newsletter list. He gave us advice and counsel on our audiobook. He's been a real friend to our ministry. Buy from Jim!
A Give-Away!
Jim Hodges is going to give five blessed winners each a G.A. Henty audiobook of their choice! I wish we could compete! So how do you win?
First, go cast your ballot for the Book of the Year. Click here, then scroll down to NONFICTION – RELATIONSHIPS / FAMILY, where we sure hope you will vote for Raising Real Men! Be sure to hit the "Submit Votes" button at the bottom! If you've already voted, keep reading…
Then, head over to sign up for Jim Hodge's newsletter. You ought to, anyway, he has great resources and terrific deals. Click here, and sign up on the lower left!
There, you are entered! Keep an eye out for more giveaways and freebies this week. Oh, and if you have time, what are your favorite books for boys?