Welcome to Our Party! We've Got Freebies and a Contest for You!
in

"Boots and Saddles!" the cry rings out and the Youngs come running. We have long used the old cavalry call to tell our children to gather up, it's time to "ride out" (get in the van and leave :-). I can't even remember where we first heard it or when we first started using it, but it's only one of a myriad of quirky things that we do just because we're Youngs.

We long for our children to serve Christ. We want them to share their hearts with us and to follow us as we follow Christ. We believe that building unity in our family will help us accomplish that. As our boys identify with our family and build happy memories, that the ties which bind them to us, we hope will go through us to the Lord. One of our workshop CDs shares a whole hour's worth of ideas that you can do to have A House NOT Divided: Building Unity in the Family.

Our friend, Felice Gerwitz, at Media Angels will soon be releasing a new book that sounds like a great resource, too.  She's sending me a copy to review and I can't wait to read it!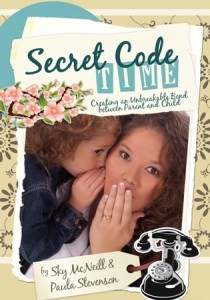 Written by mother-daughter team, Paula Stevenson and Sky Stevenson McNeill, Secret Code Time: Creating an Unbreakable Bond Between Mother and Child sounds great! Here's what Media Angels says about it:
Do you sit at the side of a crib and wonder what your relationship with your child will be in years to come? Do you wonder what it will be like; will you have a communication relationship that has no boundaries? Or have the years slipped by too quickly, and you now feel like there is an impenetrable wall that goes up anytime you try to talk to your child?
Join this mother-daughter team as they recount hilarious antics and reminisce about heartfelt moments that forged an unbreakable bond that would last a lifetime.  Come along on their journey, as they take you step by step in how to build a bridge of communication with your children from an early age and how to mend and restore a broken parent-child relationship.
Want a sneak preview? Today's freebie is the Secret Code Time Relationship Checklist. Click here to download the checklist and do a check up on your relationship with your children!
Want to read it before anybody else? I am very excited to announce that Felice Gerwitz of Media Angels, the publisher of Secret Code Time has agreed to let us give away two prepublication copies of Secret Code Time! That's right – you can get a copies before it is even published – just like the big magazine reviewers do!
One copy will be given to someone who comments on this post. I'd love to hear what special things you do as a family to build unity with your children. And as always, you get extra entries for posting about this contest or Raising Real Men on your blog, email loop, forum, Facebook page, Twitter, anywhere on the web you like! I can tell you guys are spreading the word and we appreciate it more than you can know!
A second copy will be given to someone who twitters mentioning @raisingrealmen! Follow us on Twitter
I apologize for not posting these sooner, but we've been swamped with Katie's heart test at Duke and the children getting the stomach flu. We are so grateful for your prayers!  Here are the winners from Saturday, Monday and Tuesday's contests:
Beyond Numbers: A Practical Guide to Teaching Math Biblically by Katherine Loop from Christian Perspective:
Congratulations to: Randy K and Bonnie (I don't have an email, Bonnie! Send me a note!)!
Hands and Hearts History Kit of Your Choice from Hands and Hearts:
Congratulations to Gaines Family and Rachel S!
Beeyoutiful Family Vitamins Gift Pack from Values-Driven Family:
Congratulations to Paula!
And congratulations to Joy Ellis, to whom we are giving a special gift! Joy has blessed us incredibly by spreading the word about Raising Real Men and our celebration! Thanks, Joy!
Don't forget the Estes' Super Sale! And we'd love to continue the conversation with you on Facebook (fan us on the righthand side of this page) and our newsletter (sign up there, too!)
And Happy Birthday to John Calvin, our eldest son, without which we'd be drowning in a byte-mine! 🙂
Hal & Melanie