Welcome to our Official Release Celebration!
in
Raising Real Men will be officially released by Great Waters Press on January 29th.
We're having a party to celebrate and you are invited!
Every day from now until then, we'll have a giveaway – that's right, something everyone can have for free! – and a contest with fantastic resources and prizes provided by our fellow Christian publishers who want Raising Real Men to take off with a bang! We have resources for preschoolers, elementary age students, teens and parents coming. Don't forget to check back every day in the next week or you'll miss a treat! Why not sign up for an RSS feed, so you don't miss a thing? Just click here. We hope you'll check out our friends who are sponsoring this celebration with gifts up to $93 in value!!!:
Sonbeams, Hands and Hearts, WriteShop, Values Driven Family, Christian Perspective, Kap and Pen Publications, Teaching Good Things, Motherboard Books, Homeschool Group Leader, Media Angels and Lynda Coats Unit Study Emporium!
Today's party is hosted by Sonbeams: Raising Up SON-Beams for Him!
I'm really excited about introducing you to Sonbeams! You may know that we have eight children who range in age from adult to infancy. I find I get a little lazy about resources for the little guys – after all, we have so many things from when the big guys were little, I forget I need to keep an eye out for new and better things. I was happy when Candace of Sonbeams contacted me about sponsoring our celebration. She sent me a download of her ABC Bible Memory Verse Songs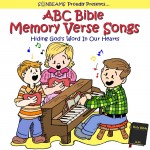 I loved them! It's a collection of 26 Bible verses set to really sweet, happy songs. What a fantastic way to hide the Word of God in our children's hearts. Years ago, we had a CD that had a few Bible memory songs on it and we still – probably 15 years later think of them whenever we hear a reference to those verses. This is the easiest way to memorize Scripture I've ever found. It's child-friendly, too, as the songs are sung by children. I think this is a great addition to any family with young children.
There are several great options on the Sonbeams site: you can download the songs, or buy a CD, or buy a CD, teacher's guide, even music. Check it out!
I am thrilled to tell you that Sonbeams has offered to give you a download of one of their songs free! They let us decide which one and we chose "C – Children Obey Your Parents in the Lord, for This is Right." We all want our children to know that verse, right? LOL! I think you'll love it. Please note that if you want to get their newsletter, and I hope you do, you'll have to sign up separately as Candace wanted this gift to be completely free of obligation!
Download your gift from Sonbeams here.
That's not all! Sonbeams is also sponsoring a contest for us!
They have given us two ABC  Bible Memory Verse Songs CDs to give away! They're worth $13.95 each!
Here's how we'll choose the winners:
One winner will be chosen from among fans of Raising Real Men's Facebook page. Just head over there to fan us and you'll be entered, or just click "Become a Fan" in the side bar on your right!
Another winner will be chosen from those who comment on this post. Leave a comment with a tip or a question about raising young boys (since today's resource is for younger children) for Christ!
Want more entries? Just post about this week's celebration or this contest or Raising Real Men with a link back here on your Facebook wall, your blog, an email loop, forum or Twitter. Then post a comment with the link or you can cut and paste your post if you post somewhere private.
We'd love for you to help us out by doing this because we really want to spread the word about Raising Real Men. We are getting so many letters from parents who have had their hearts changed toward their boys because of this book. Just this morning I was talking to a mother who had given the book to a friend who had an older daughter who was calm and quiet, then adopted a little boy. She was so relieved to find out that he was a normal boy and she had a renewed vision of how to raise him to be a real, godly man.  Why not read a chapter or order a copy while you are here?
We're signing copies you order from this website, plus you get our study guide, free shipping and the first Sugar Creek Gang audio book as free bonuses! Just click here!
Don't forget to come back for tomorrow's freebie and contest! We'll announce a winner tomorrow, too!